This past June I blogged about my desire to read more hopeful science fiction. Last month I reviewed Woman on the Edge of Time as my first selection for this list. Today I'm back with a review of Alice Sebold's The Lovely Bones.
If you have recommendations for future instalments of this series, I'd sure like to hear them. Leave a comment below or send me message about it on Twitter.
As I mentioned last month, the books I include in this series don't have to start off in a hopeful place, and I don't require them to shy away from difficult topics. I'm including a trigger warning for today's review because The Lovely Bones does begin with a teenage girl being raped and murdered by someone who lived in her neighbourhood.
The story briefly discussed the end of this character's life without going into any graphic details about it, and I will be talking about it even less than the narrator did. However, I want everyone who reads the rest of this post or check outs this book for themselves to be fully aware of those potentially upsetting references ahead of time.
The Lovely Bones
Alice Sebold's The Lovely Bones was first published in 2002. The story it told began in the 1970s with the disappearance and violent death of the protagonist, a fourteen-year-old girl named Susie. Her parents and siblings struggled to move on with their lives without knowing for sure what had happened to her, and the main character found it equally difficult to say goodbye to a life that had only just begun for her.
Interestingly enough, the plot had much less to do with how Susie died than what she decided to do with her time after her death.
The afterlife Susie was welcomed into was everything anyone could hope for. There were no harsh judgements awaiting her or anything like that. She was loved, cared for, and reassured in a safe, happy place as she adjusted to the thought of a future she could have never predicted ahead of time.
Yet she still wanted to return to the life she'd once had. This yearning that Susie felt to reconnect with her loved ones was overwhelming at times, and it made her an incredibly sympathetic character. Anyone would have felt the same way in her shoes. I wanted her to find a way back home more than anything, but I couldn't imagine how the plot could ever bend in that direction.
Grief
One of the things I wish I could change about western culture is the way it reacts to grief. There's an expectation in many western societies that one should grieve quietly, briefly, and in private. I'd like to make it clear that there's nothing wrong with this kind of grief, but it's not the only way to respond to loss.
The Lovely Bones showed characters who grieved in many different ways. Some of them spent years trying to figure out what happened to Susie. Others moved as far away from the town where Susie had lived as they possibly could or buried themselves in various projects as a way to cope with the past. Even Susie herself had to figure out how to say goodbye to the life she expected to have so she could embrace the (after)life she was experiencing instead.
There's no shortcut through grief. As hard as it was at times to watch the characters mourn everything they'd lost, I appreciated their realistic responses to the days, weeks, months, years, and decades that followed after the heartbreaking opening scene. These were some of the best portions of the book. I'm not embarrassed to admit that they occasionally brought a tear to my eye.
Acceptance
Pain is unfortunately a part of life for every living thing. While some know more of it than others do, no one that I've ever met has been able to escape it entirely.
What The Lovely Bones did exceptionally well was to show how someone can accept what has happened to them without anyone making excuses for the perpetrators or calling those experiences good ones by any stretch of the imagination.
It's been my experience that some well-meaning people will do both of those things in an attempt to help the person who was hurt begin to heal. They almost always have no idea they're actually making the problem worse, but it was still refreshing to read about characters who tried to find acceptance without downplaying what happened or pretending like it had some mystical or uplifting purpose that Susie needed to discover in order to move on with her (after)life.
One of the few criticisms I have of this tale has to do with Susie's multiple attempts to accept what had happened to her. The plot went into a lot of detail about her resistance to this idea early on, but it wasn't quite as thorough in later chapters once her siblings grew up and began to find their own sense of peace. I can't say much else about this without giving away spoilers, but the ending would have been even better if the audience could have seen more examples of Susie's later reactions to this topic.
Hope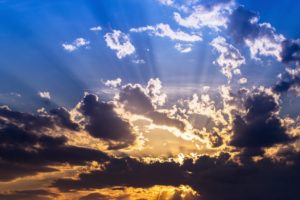 The hope in this story arrived gradually. Don't look too hard for it in the first few scenes or chapters. Just like what often happens in real life, it will take time for everyone to adjust to their new reality and for certain parts of the plot to be set into motion before you begin to realize what will await Susie and everyone who loved her.
You see, hope isn't something you get one dose of and then are set for life. There's nothing delicate or whimsical about this emotion.  It also won't magically appear and make every problem in your life disappear in a puff of smoke. (If only life worked that way!)
To see the true effects of hope over a long period of time, one often has to look at the longterm evolution of a person, memory, idea, or wish. What will happen to this individual in ten years? How does someone live with decades of unanswered questions? What might be waiting for you on the other side of unimaginable grief?
The beauty of this tale comes in how it defines and describes this concept for people who aren't interested in pat answers or ignoring the types of pain that make hope so meaningful for those who seek it.