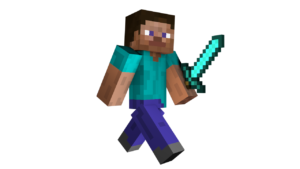 The only thing Steve remembered about his past was his name.
His first memory of the land called Minecraft was of standing alone at dawn in an eerie forest whose trees came tumbling down if you hit them. He was wearing a shirt and a pair of pants but was otherwise alone and defenceless against the elements.
He had no food, weapons, or tools. Other than a few fluffy sheep in the distance, there were no other living things within sight.
The ground was covered in a soft layer of grass that was occasionally interrupted by a colourful flower, but, strangely enough, there were no butterflies, insects, earthworms, or other small creatures anywhere to be found.
Surviving in the Wilderness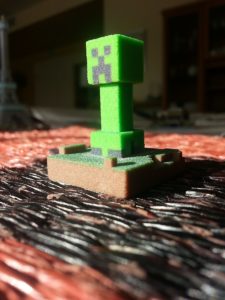 Steve dug a small sleeping hole in the side of a cliff that first night. The thought of sleeping out in the open made him shudder for reasons he couldn't explain, and that gut feeling turned out to save his life.
There were witches, zombies, skeletons, spiders, and green exploding monsters called creepers in that forest that growled, cackled, and prowled from dusk until the next dawn. Other nasty creatures revealed themselves later on, too, like Enderman (who could teleport) and baby zombies who were somehow twice as fierce and fast as their parents.
He didn't know where they'd all come from, but the noises they made kept him from sleeping a wink. After swiftly being killed by a baby zombie the next morning, he learned two things: 1) always be cautious when leaving his tiny resting hole, and 2) death wasn't permanent. He woke up beside the same tree he'd looked at while his first memory was being formed after the accident, and he was somehow no worse for the wear.
Over the following days, he slowly learned how to build a bigger shelter and where to find food. Arranging the pieces of wood he collected gave him everything from a workbench to crude wooden tools for hoeing the ground for his first little garden, defending himself from monsters, and digging deeper into the cliff to see what he could find there.
Other lessons soon followed. For example, it turned out that monsters appeared during the day, too, if he failed to put up enough torches in his dark home or in the caves he discovered as he dug ever more deeply down into the cliff. Once he built a bed and began sleeping through the night, his encounters with these creatures became something he sought out on purpose instead of an unwanted source of danger while he was trying to gather basic supplies.
Thriving on a Homestead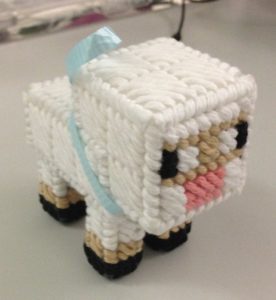 Steve's little farm quickly grew into a large, bustling homestead. He soon had so many sources of food that he was able to fill several chests with enough meals to keep him from ever going hungry again.
For example, he learned how to grow pumpkins, potatoes, wheat, and carrots. He also figured out how to keep a steady supply of fish, beef, mutton, and chicken in his diet as well. Exploring new biomes added even more animals and plants to this list.
Building fences and putting torches everywhere kept his property safe no matter what time of day or night it was. As he dug out more valuable minerals from the soil, everything from the weapons he used to the armour he built for himself became top-of-the-line.
There was nothing Steve needed that he couldn't somehow grow, mine or build other than the answer to one burning question.
Wondering About His Origins
Where did he come from? Did everyone come back from the dead and into the same body every time they died? Why was he alone in this strange, flat world that defied the laws of science? Who were his people? Were they the ones that had raised him to adulthood, or had someone else done it? Why couldn't he remember anything from his childhood when he did instinctively know how to hunt, farm, fish, fight, and mine?
He soon began wandering further and further from home both to discover what other fantastical things were out there and to see if anyone had any answers for him. One day he stumbled across a village filled with tall, thin people who looked nothing like him but who were quite friendly (if also occasionally inept at building safe homes and somehow never able to defend themselves against the monsters that came out at night if Steve refused to go to sleep).
They were the first human-like creatures he'd found in this land, and he soon figured how how to trade with them even though they found his language as indecipherable as he found theirs. Steve felt a kinship with them despite the fact that they had no way of understanding his questions or giving him any answers that might have been hidden inside of their memories.
Seeking Answers, Defeating Foes
The further Steve wandered away from his home base, the more wonders he discovered in this flat land. There were lava waterfalls, a hellish second dimension of this land called The Nether where day and night had no meaning at all, and monsters tucked away underground or underwater that were much bigger and more dangerous than anything he'd seen on the surface.
In time, he defeated them all. He even found a way to kill the dragon that lived in The End, the third and final dimension of Minecraft. A voice boomed from the heavens when this happened proclaiming him the winner and bestowing more riches upon him than he'd ever seen in all of his lifetimes put together, but still he found no answers to the questions he sought.
He was Steve, the man who could die but who would always come back to life again. This was all he knew about his identity and all he was ever going to know. Somehow, it had to be enough for him.
Steve carefully travelled back home again, carrying all of his treasures with him. The chickens needed to have their eggs collected again, and he had almost certainly had some vegetables to harvest as well.
As life began settling into it's regular routine once again, Steve began thinking about his future. Perhaps it was time to build a bigger home. He could invite some of the villagers to live with him. Despite the vast language differences between them, he'd come to see them as dear, old friends. There was definitely enough food to go around!
What would your favourite game be like if it was translated into a story?