Here is this week's list of comic strips, advice, poems, and other stuff from my favourite corners of the web.
Maybe You Should Try Not Being So Much Yourself? via ferretthimself. There's something to be said for this.
South for the Winter. I'm guilty as charged of this. How about you?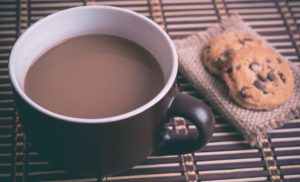 Hot Chocolate: A Tasty Brain Booster. This is yet one more reason to indulge in hot chocolate.
Cue Jaws Music. I'm sharing this mostly because my husband loves sharks. Let's see if he likes this comic strip about them.
The Soul Bar via jdubqca. What an imaginative take on what the afterlife might look like.
My Fan Experience with George Michael via BillyDees. I found this utterly fascinating. I didn't grow up with George Michael's music, but now I feel like I understand a small part of why fans were sad when he died.
Being a Good Person Is a Choice. A friendly reminder for all of us.
From The Sexism Problem:
With every new report, a wave of weariness washes over me: 'Really?' 'Still?' my mind cries. When will we get over this? Anger used to be my pre-eminent response, but I've seen so much sexism in science over the past 30 years that nothing much surprises me any more.
What have you been reading?