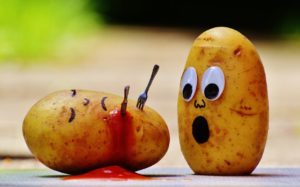 Here is this week's list of poems, stories, comic strips, and other links from my favourite corners of the web.
I'm Sorry Steve's Dead, But Maybe He Shouldn't Have Touched My Snapple. The picture on the left was the perfect accompaniment to this short story. The story itself is told in multiple parts, for the record. Scroll down to the bottom of this link to find the link to part two.
A Light Exists in Spring. This is one of my favourite Emily Dickinson poems.
Sync Your Breathing with This and Relax. I vaguely remember sharing links that were similar to this one in the past. What I really like about this particular site is how customizable it is, though. The nature sounds in particular were a nice touch. I loved breathing in deeply while listening to the gentle patter of rain.
Never Be Late Again with Teleportation via tjonesauthor. I sure like the sound of this idea. Traveling is not my idea of a good time.
Stargazing via adoptiveblkmom. What an interesting post. It reminded me a little of the long walks I used to take with my mom when I was a teenager.
The Wake Up Call. This is what I imagine Daylight Savings Time must be like every year if you happen to live with a cat or other pet.
Is It Worth It to Write Online Even Though the Platforms You Use Could Disappear? via breecrowder. I couldn't agree with this more. It does make me wonder what percentage of the things we type on the Internet will still be around in a decade or two, though!