We are quickly sliding into the winter season here in Toronto, and that means a lot of time spent watching TV for my family.
My excitement levels are quickly rising for them, so today I wanted to talk about some of my favourite shows.
Glitch
I gushed over this show on my old site last month:
Glitch is an Australian sci-fi show about a small-town cop named James Hayes who is trying to figure out why six people have risen from the dead in the local cemetery. None of the dead remembers their previous identities, and all of them have come back in perfect health.
The link to my blog post is spoiler-free for anyone who hasn't tried this show yet, but the link to the Wikipedia article about it discusses all of the episodes in a lot of detail.
My desire to know what is going on with these characters has only grown stronger in the last month or so since I finished the season one finale.
I can't count how many times I've asked my spouse for theories about what is happening with this community. He had a fascinating theory about part of the mystery, but I think I'll wait to share it until season 2 is released. I have a funny feeling that he is right.
He's amazing at figuring out where show writers are going with certain clues, so I don't want to spoil anyone's enjoyment of the first season.

Fuller House
Raise your hand if you were fan of Full House in the 1990s!
What I liked the most about the first season of Fuller House was that it embraced its cheesy origins. There were definitely a few scenes in season one whose syrupy sweetness made me cringe a little, but sometimes fluff is a good thing.
It's nice to watch something lighthearted that doesn't require you to think about the difficult things in life. A lot of the other programs I watch are serious and dark, so I appreciate the break I get from this one.
I will say that the creators did excellent job at bringing these characters to the twenty-first century, though, and I'm looking forward to seeing what everyone gets up to in season two.

Star Trek: Discovery
Anyone who follows me here or elsewhere online has no doubt figured out by now how much I like the Star Trek universe.
It's been a long time since we had a new Star Trek series, so I'm excited to see what will stay the same as well as how it's been adapted to fit a 2017 audience. There were certain things that were done in the original series that weren't repeated later on because of how society changed between the 1960s and later eras.
For example, none of the other captains were quite as, er, popular with the ladies they met on various planets as Kirk was back in the 1960s. I've joked about how many kids he probably fathered during his career with Starfleet, although I'll leave it up to the hardcore Trekkies to come up with actual figures there. Ha!
On a more serious note, every captain has seemed to have a quiet and mysterious streak to their personality. That's something I really hope will be continued in Discovery as it makes getting to know the person in charge a little more challenging than it would otherwise be.
I was disappointed to learn that Discovery has been pushed back to a May 2017 release date, but I have been keeping an eye on this fan site for new developments. Hopefully we'll know something more about it soon.
Fair warning: the guy who runs it shares all of the new information he uncovers even if it wanders into mild spoiler territory. I don't mind reading them in this case, but I know that some of my followers don't feel the same way.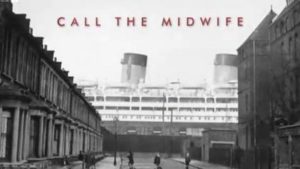 Call the Midwife
I originally started watching this British drama because I'd read all of the memoirs it was based on and couldn't wait to see how certain stories would be translated to the small screen.
Jennifer Worth, the main character of the first few seasons as we'll as the author of the books, saw a lot of terribly sad things during the years she worked in the East End of London. It was a time in modern history when birth control was basically non-existent, healthcare was only just beginning to become available to everyone, and many different kinds of people were forced to hide huge secrets in order to survive.
Later seasons start telling fictional stories instead of true ones, but that hasn't dampened my enthusiasm for this series at all. The nuns and midwives have such interesting lives that I'd watch them even if people stop having so many babies in the East End.
I'll be talking about all of these shows on Twitter in 2016 and 2017. I hope to hear from you over there if you're a fan of any of them!