Today I'm going to be talking about the parts of weightlifting that I hate.
Every type of exercise has its downsides no matter how much you enjoy it overall. In no way is this essay meant to be a put-down or a rant. I'm writing it from the perspective who loves bodybuilding even when certain parts of it annoy or frustrate me for reasons that I'll discuss below.
The purpose of today's post is simply to honestly discuss the things I wish I could change about this form of exercise.
On Monday, October 2 I'll be publishing a longer follow-up to this post that talks about all of the things I love about lifting weights. I hope you'll read both posts once they're available and think carefully about your favorite sport or workout routine.
If you  share your own lists of the things you love and hate about whatever kind of exercise you do on a regular basis and let me know about them, I will happily share links to those essays on a future Suggestion Saturday post.
The Gender Stereotypes
When I was a kid, I remember watching an interview on TV with a woman who was a bodybuilder. One of the first questions the host of this show asked her was about the fear that women have of becoming too muscular if they begin to lift weights regularly.
She laughed and talked about how difficult it was for women to create the kind of bodies you see in female bodybuilding competitions.
It wasn't until I began lifting weights myself years later that I realize exactly how right she'd been about that. Regardless of whether or not you want to look like them, it's not a body type that accidentally happens a few minutes after you lift a 5-pound weight.  The large, defined muscles you see on the women in those competitions require years of dedication that include a strict diet and strenuous exercise routine.
I still meet people who believe that "real" women aren't supposed to be muscular and that lifting even light weights without changing your diet will result in these kinds of figures.
The sexism in the first part of that statement saddens me. There is no such thing as being a "real" woman, and even if there was this would have nothing to do with it. I'm also dismayed by the idea of pitting people against each other based on the size of their muscles.
The unrealistic expectations in the second part make me roll my eyes. If only it were that easy to build muscle!
The Callouses
Callouses were the last thing on my mind when I first began lifting, but now I have them on both hands. The weights I use have ridges etched into them to make it easier to hold onto them if your hands are sweaty.
Given that I've moved up to lifting 30 pounds at a time now, this is an important safety feature. I'd hate to think what would happen if a non-ridged set of weights were to slip out of someone's sweaty hands. They could very easily break a bone or do other serious damage to anyone who got in their way!
With that being said, I still miss the smooth skin I used to have. Don't laugh. This is definitely a minor issue in the scheme of things, but it bothers me to have callouses that I can't get rid of no matter what I try.
The Lag Between Working Out and Seeing Results
Weightlifting doesn't give me that same mood boost that going on a long walk does. When I first began bodybuilding, I felt nothing other than some muscle soreness after those workouts. These days it's pretty rare for me to be sore, so I usually don't have any particular feeling at all when I finish a set.
Building muscle and lowering your body fat percentage takes time. It's such a gradual process that I don't notice any differences from one day or week to the next. It's only when I check my statistics, or need to buy new clothing, or get a comment from someone who hasn't seen me in a while that I realize my body is slowly growing stronger and leaner.
The changes are still exciting over the long term, but I do still sometimes wish that it was as easy to see your muscle growth as it is to notice positive improvements in other types of exercise like jogging or dancing where people can do stuff like count how many miles they ran or which new dance moves they've mastered.
You Can Injure Yourself If You Don't Do It Correctly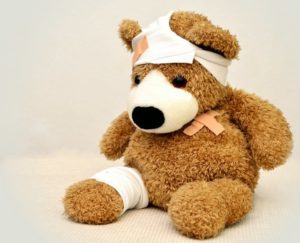 This isn't something I'd recommend to anyone who isn't willing to put in the time to learn how to do it safely. One of the benefits of walking is that it's pretty difficult to hurt yourself when you're on a walk. There might be an occasional slip and fall in slippery conditions, but other than that a walk can be taken safely regardless of your posture, how you move your body, or how much attention you're paying to your surroundings.
Weightlifting isn't like that. By no means am I trying to scare people out of trying it, but it is a sport that needs to be taken seriously. The last thing you want to do is hurt yourself by lifting something that's too heavy for your or by not using the right form.
On that note, I'll sign off. Come back on Monday to find out what I love about this form of exercise.