Today's post is going to be a short one. My brain is not up for waxing on eloquently on any topic at the moment.
I don't know about the rest of you, but I rarely read one book at a time. It's much more common for me to jump between two or three (or more) of them simultaneously. Lately, I've been stumbling across one great read after another.
If non-graphic references to the accidental death of a child are hard for you to read, you might want to skip the first one.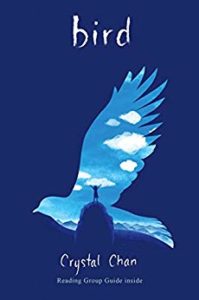 From Crystal Chan's Bird, a young adult novel about a girl who was born the same day her brother died and who grew up in the shadow of her family's grief:
Grandpa stopped speaking the day he killed my brother, John. His name was John until Grandpa said he looks more like a Bird with the way he kept jumping off things, and the name stuck.
From Melissa Hill's Keep You Safe, a medical thriller about how two families – one who were anti-vaxxers and another whose child couldn't be vaccinated due to a rare disease – reacted when the antivaxxer's family caught the measles and gave it to the medically fragile child:
The bell rang out and on cue they started to approach all at once, like a stampeding herd.
From Aimee Nezhukumatathil's Lucky Fish: Poems. This is the first fragment of The Secret of Soil, the first poem in this collection:
The secret of smoke is that it will fill

any space with walls
From Jennifer Mathieu's Devoted, a story about a devoutly religious, homeschooled girl who begins to seriously doubt the things her parents had always taught her about what it means to live a righteous life:
James Fulton is sweating like a sinner in church. Which, of course, is exactly what he is. 
I'm hoping to write a much longer and more detailed post on Monday. In the meantime, what are the first lines from what you've been reading lately? Who else likes to start a new book before finishing the one(s) you're currently reading?