Today's topic is a lighthearted one.
My idea of the perfect reading spot has evolved over the years. I thought it would be fun to tell brief stories about where I used to love to read, why I chose those spots, why my preferences changed, and where I read today. Feel free to leave a comment with stories about your own favourite reading spots!
Behind the Couch
My grandparents were lucky enough to become grandparents at a fairly young age. They still had a house full of children when I was born, so they never bothered getting rid of a lot of the stuff that parents accumulate while raising kids. Many of the toys and books my mom and her siblings enjoyed were saved for us grandkids and, later on, the great-grandkids! My grandmother's living room has a few large couches in it. They had, and still have, a cupboard filled with children's books behind one of those couches.
Some of my earliest memories that have to do with reading involve climbing behind that couch and finding the same editions of classic fairy tales tucked back there that my mom read when she was a child. I read them over and over again while the adults chatted in the next room.
Underneath the Piano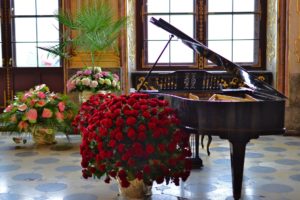 As soon as I outgrew the small space between the couch and the cabinet full of books, I moved onto a spot beneath my grandparents' piano. (Have you noticed the pattern of my early reading years yet?)
It didn't look exactly like the piano in this photo, but it did have plenty of room to sprawl out underneath it if you were six or seven and unconvinced that social mores should always be followed.
The adults thought it was funny that I kept finding hiding spots to read.
I liked the fact that I was simultaneously close enough to listen in on their conversations while also in a place that was enough out of the way that no one would try to take my spot.
Reading underneath the piano also meant that I was a little closer to the kitchen. This came in handy when I read about some delicious treat that could only be found in a science fiction or fantasy book and needed to find a snack that actually existed here on Earth instead.
In a Beanbag Chair
My parents moved far away from our extended family when I was seven. We spent four years living in Laramie, Wyoming, and I'm convinced that I spent at least one of those years reading in a bean bag chair.
Where did that bean bag chair come from? I have no idea. It was probably a gift from someone, although I don't remember what the occasion was or who might have given it to me.
It was the most comfortable reading spot I'd discovered at that point in my life, though. I sat in it over and over again until it finally wore out completely. My siblings and I were still homeschooled back then, so there were many hours of reading time to be had once our lessons were finished. This was even more true during the very long and snowy winter season in Laramie. There's not much else to do other than read in the middle of a blizzard or when there are a few feet of snow on the ground.
I remember seeing the little white beads on the floor, so I think my beanbag chair either leaked or popped after a while. At any rate, this was roughly the same point in my life that my family switched from homeschooling to public schooling.
At the Library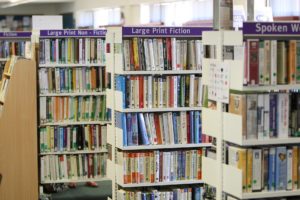 By far my favourite part of attending public school was getting to visit the school library. They had hundreds of books there, and you could check them out as often as you wanted to.
I have a few memories of being in that library without my teacher. Maybe she gave a few of us permission to go there after we finished certain lessons early since our classroom was right down the hall from the library? At any rate, I read as much as I possible could there before the school year ended. If I could have visited during the summer, I would have.
Luckily, Laramie also had a well-stocked public library that my family visited regularly. My strongest memories of it are as follows:
Sitting in little wooden chairs and reading quietly while my siblings finished picking out what they wanted to borrow.
Looking at a sculpture of a large apple that had a big bite taken out of it. There may have been a worm crawling out of it, too. This piece of art was in the children's section, and it utterly fascinated me.
Sneaking into the adult section of the library once to look around and being surprised when none of the adults noticed or cared. For some reason, I was convinced that the librarians would have disapproved of a child looking at books meant for grown-ups.
In a Hammock
My family moved back east where many of our extended family members lived when I was eleven.
The house we lived in had a large backyard full of trees that overlooked a lake. I bought a hammock with my savings, and my parents hung it between two trees.
I spent the next few years of my life reading out there whenever the weather was decent. It was such a peaceful place to read, especially when I occasionally glanced up and saw a neighbour swimming or boating past our yard. We'd never lived right next to a lake before, so it surprised me a little bit every single time that happened.
At the Park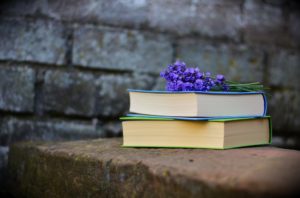 The best reading years of my childhood began when I was fifteen and we moved away from the countryside and into a small town.
Our house was a ten to fifteen minute walk from the public library, so I could finally go to the library as many times each week as I wanted to  without having to ask anyone to drive me there.
This meant that I sometimes went every day in the summertime! There was a small park right next to the library, and a bigger park about halfway between our home and the library.
I spent a lot of time hanging out in them when the weather was nice. Our community was far too small to have festivals, parades, or other large events more than a few times a year, so it was nice to have all of that free entertainment at my fingertips.
On My Smartphone
These days I'm all about ebooks and reading online in general.
The beautiful thing about having a smartphone is that I always have something to read if I'm stuck in a waiting room or on a delayed subway car. Carrying around a book isn't always practical, especially since you can't always predict when you might suddenly have twenty minutes to spare and nothing to do during that time.
It's also nice to have dozens of books at my fingertips. Whether I want something serious or lighthearted, it's easy to find online if I don't already have it in my virtual library.
Where do you like to read? How have those preferences changed over the years?