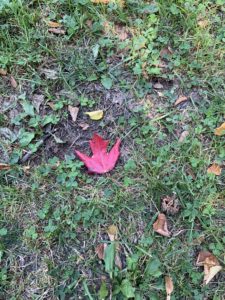 Each month I share photos from one of the parks in Toronto to show my readers what our landscape looks like throughout the year. This is the eighth instalment of this series.
Click on February, March, April, May, June, July, and August to read the earlier posts. It was  13 Celsius (55 Fahrenheit) and slightly cloudy during this month's visit.
September is a wildcard month like March. This was one of the cooler days in it so far, but we've also had days that were about 30 C (86 F). Last year, our September was just as hot and humid as August was.
If you ever visit southern Ontario in this time of year, remember to pack for both extremes of temperature. You might shiver one day and perspire the next. Even locals can't assume anything about next week's weather based on what we're wearing today which is why my wardrobe currently includes everything I own other than my thickest winter sweaters in it. Ha!
Two things make September look and feel different from August other than the unpredictable temperatures swings that happen as the seasons change. One, the humidity generally goes down. Two, a few trees begin to change colour before the dramatic shift that will come in October.
But before we talk about that, I sadly must show you our Covid-19 protests. This shot was taken at a distance so you can also see the greenery at the park.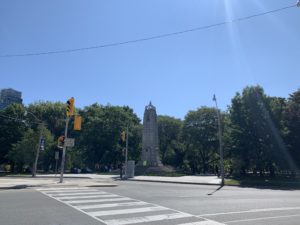 Are they protesting for better wages for the doctors, nurses, and other hospital workers saving lives? More personal protective equipment for frontline workers? A stronger social safety net for everyone who has suffered financially during this pandemic? Free counselling for anyone who needs it?
No, they're protesting because they don't want to wear masks, prevent the spread of disease, or listen to the experts on public health, epidemiology, and medicine. I respect everyone's right to protest, but please note that most of us are taking this pandemic seriously and are embarrassed and annoyed by the small percentage of Canadians represented here.
This shot was taken from a distance in order to protect the identities of the protestors. May they and their loved ones stay healthy and never learn the hard way just how dangerous this virus is.
In more cheerful news, look how green the trees remain!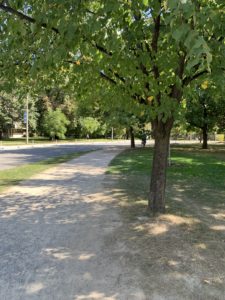 You could almost think it's still August here. The running path remains as busy and dusty as always for this time of year.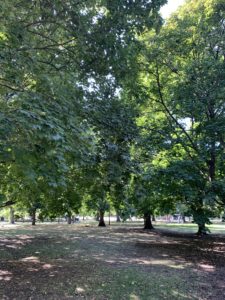 Many portions of the park look as green and lush as ever.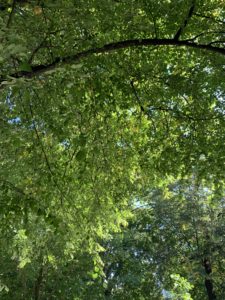 The canopy of leaves is nearly as thick as it was last month. Have you noticed any of the subtle changes yet?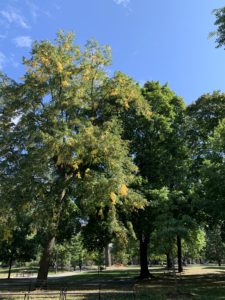 Maybe this will help. Most trees are still 100% green, but some of them are showing the first signs of their autumn colours. It can be fairly subtle like this tree…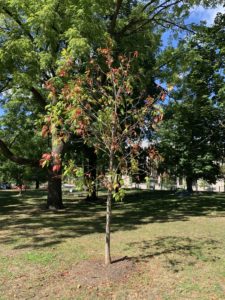 Or a bit more advanced like this sapling whose leaves seem to be about 30% red…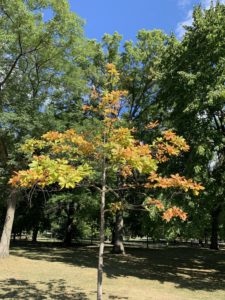 Or well ahead of the curve with about half of its leaves changing….
Or even like this oddity that is simultaneously bare, covered in red leaves, and still hanging on to the green ones. My spouse and I wonder if this is normal for large, towering trees in a forest. Maybe they get the lion's share of strong winds that rip off their leaves as soon as they're the tiniest bit loose?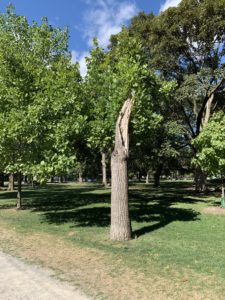 Our tree friend that lost half its branches last winter seems to be thriving. All of its leaves are still green, and its trunk looks as solid as can be expected given the damage it sustained last winter.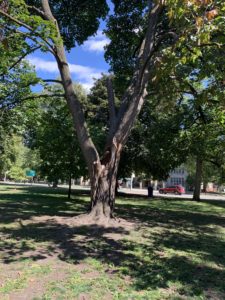 But the tree friend that lost about a third of its branches doesn't seem to be doing well. Many of its branches are bent over now, and the crack in its trunk seems to be widening and creating new, smaller cracks in its wake.
I've avoided walking underneath its branches for some time now. Many of them are large and quite heavy looking.
This was as close as I dared get. As I've said before, I'm not an arborist, but this tree really doesn't look healthy to me. I hope I'm wrong about that and it wakes up stronger than ever next spring.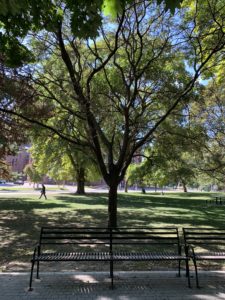 On a lighter note, this is the time of year when you can see a tree that has lost all of its leaves right next to one that's still green. That juxtaposition always makes me smile.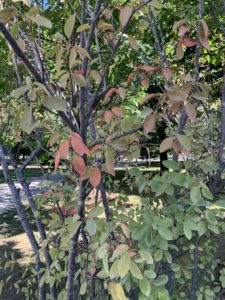 Do you remember how I told you all to look at the ground six months ago when seeking out the first signs of spring? That rule doesn't really apply in the autumn.
Bushes and trees alike are showing the first hints of their autumn colours. Whether you look up, down, or all around, you'll find them with a little bit of patience.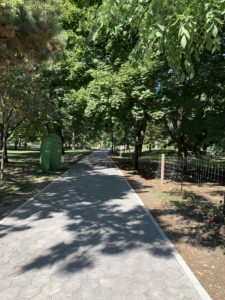 The famous stone walkway remains more or less the same shady, green spot its been since May for the time being.
Ontario seems to have entered our second wave of Covid-19 infections, but I don't expect that to interrupt this series.  Our parks always remained opened for socially-distanced walkers and joggers even when the first wave of cases was as its highest and all other park amenities were closed (including benches for a brief time last spring!) If I get sick or if Toronto's bylaws unexpectedly change in ways that require this series to be paused, I will let you all know about it as soon as possible.
Next month will bring dramatic and, in my opinion, breathtaking changes for our foliage. I can't wait to share it with you all! Stay safe, friends. I cherish these virtual walks with all of you.