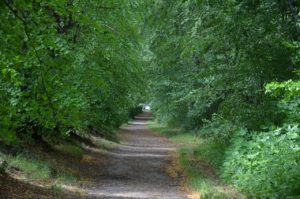 Do you remember a few months ago when I blogged about my plans to walk to Mordor?
That is, I signed up for an app that lets you track how many miles or kilometres you walk every day and gives you updates about what Frodo and Sam were up to when they'd walked a similar distance in the Lord of the Rings trilogy.
Someone I know also signed up for this app when I blogged about it back in May, so I've had a buddy to compare journeys with every time I log in to update my account. That was a nice surprise, and I'm always open to connecting with other people on this journey if anyone else wants to start it.
The cool thing about this challenge is that it almost feels like I'm walking alongside Frodo and the other characters from Lord of the Rings as I log my kilometres walked every day and read about the people they met and the places they visited during their question.
Now that I'm a third of the way through this experience, I thought it was time for an update. 
A Long Journey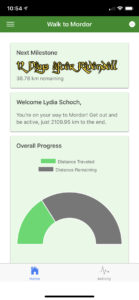 What I'm enjoying the most about this walk to Mordor so far is fully realizing just how much walking it required. On average, I log between 9 and 10 kilometres a day. Those numbers are nothing compared to what Frodo and Sam must have done on most days in order to make it to Mordor on time.
It's one thing to read about characters walking a long distance.
It's quite another to walk that same distance yourself. Every time I read a new update on their adventures, I wonder how these characters kept going day after day. What I'm doing for the sheer fun of it they did because they really had no other choice. Either Frodo needed to destroy the One Ring at Mordor or see his entire world be destroyed.
To be fair, I have a warm, soft bed to sleep in every night, a sturdy pair of sneakers, plenty of food to keep me going, and no Nazgul hunting me down. So my experiences with this fitness challenge are obviously going to be much easier than the real journey was.
Although I will always be a little jealous of the fact that Frodo and Sam got too eat lembas.
Non-Competitive Exercise
The non-competitive nature of this challenge is something I'm also really liking about it. Other players might make it through all 3109 kilometres (1932 miles) faster or slower than I do. Honestly, this isn't something I've taken the time to google or spend energy thinking about.
There's nothing wrong with other people competing with each other on distance walked or how long it takes to finish the game, but I'm completely content to keep chugging along at my usual pace. The storyline provides so much fodder for the imagination that I honestly don't want to rush this experience.
I'm currently estimating that I'll complete this challenge in March of 2020 if I keep up the same pace. In my first post in this series, my best guess was that I'd be finished by late winter or early spring. It will be interesting to see if that same prediction holds in a few months when I share another update on my progress!
This post is going to be shorter than usual, but I really don't have much else to report for now. The walk to Mordor is going well and I'm feeling good so far.
Respond
Have you ever taken up a fitness or other challenge based on a book? If so, what was it? This experiment has been well worth my time so far, and I'm definitely interested in trying similar games in the future if anyone has recommendations.