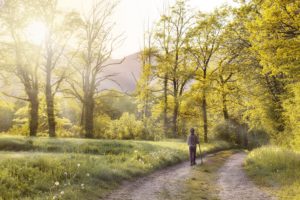 When I was a preteen, one of my uncles gave me copies of J.R.R. Tolkien's The Hobbit and the Lord of the Rings. I read and enjoyed The Hobbit immediately.
The Lord of the Rings trilogy took longer to get into. The vocabulary in it kept making me pause to look up words I'd never heard of before, and the pacing was slower than I was used to in the other stories I discovered at that age.
Still, reading about the roughly 3109 kilometres (1932 miles) that Frodo and Sam walked during the course of this adventure did grab my attention. I was the sort of kid who liked the outdoors in small doses before I ventured inside again to cool off and have a snack.
The thought of walking – and occasionally running –  as far as they did while being hunted down by all sorts of malevolent creatures and skipping second breakfast made me shudder.
As an adult, I wonder what it would be like to walk that distance for the sheer fun of it. There have been various points in the past when I've run across accounts of people who made spreadsheets that tally how far the characters walked to get to each each milestone in the plot  and when they as a fan can pretend like they've reached the next one based on how far they've walked in real life.
It was only recently that I discovered a site that keeps track of this information for you. Walk to Mordor offers free cellphone apps and also has a space on their website for people who prefer to log their miles that way instead.
The best part about this game is that it gives you notifications about what is happening in the story as the distance you've travelled reach specific plot points. It starts in Bag End, Frodo's home and the opening scene for this tale, and it goes all the way through what happened in the Grey Wood after the battles had all ended. I like the thought of that.
The man who created it developed it out of his love of these books, and I'm talking about it today simply because I think it's an incredibly cool idea that I thought some of my bookish followers who also enjoy exercising might want to check out.
As always, this blog does not feature sponsored content and I am not being compensated for this post in any way.
Why Mordor, Though?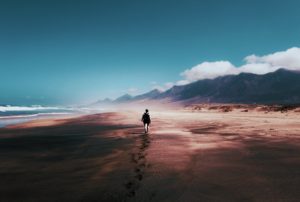 Because it's a challenge.
Over the past five years, I've been keeping track of some of my fitness-related statistics. I've walked an average of 9.7 kilometres (6 miles) a day since I first began recording this stuff. This includes days when I didn't move much due to illness or injury, so that number is higher when I'm feeling well.
Weight training is my other main source of exercise. I still find it challenging, and there's nothing I'd change about my lifting routine at the moment.
As much as I enjoy walking, it doesn't give me that same sense of accomplishment that moving up to a heavier set of weights or noticing how my body changes when I lift weights and eat a good diet.
By no means am I bored with walking…but I do like the idea of seeing all of the distance I put in on the average day add up to something tangible.
There's also the fact that Walking to Mordor has a definite end date. If I continue at my current pace, it will wrap up at the end of winter or beginning of spring in 2020. I like the idea of starting something new while knowing that it won't and can't last forever.
(Relatively) Calm Entertainment
This style of storytelling appealed to me, too. I've been looking for a fitness app that was somehow tied to science fiction, fantasy, or speculative fiction for a while now, but I was selective about what sort of adventure I was going to be signing up for.
First of all, It needed to be something that wasn't going to track my location in the real world or sell my personal information to other companies. There is far enough of that happening in the world as is!
I also wasn't interested in an app that tried to get me to move faster or for longer distances because of a storyline that involved anyone being chased by zombies or other dangerous creatures.
While I can see how that would be very motivating for some players, it's not the sort of thing that I personally find appealing. Tell me a good story, but do let me move at my own pace while everything is unfolding.
Knowing how it ends for Frodo and his many companions was yet another reason why I decided to sign up for this game. I was definitely not feeling calm the first time I read the Lord of the Rings trilogy, but there is something to be said for returning to a world you've visited many times before even if it's plot isn't exactly what most people think of as a soothing one at first glance.
I was willing to pay for what I was looking for, by the way. The fact that I found a free app that fit my criteria was icing on the cake.
Join Me
If anyone reading this wishes to friend me on Walk to Mordor, do a search for Lydia Schoch. I kept my username there simple on purpose, and I'm happy to share my journey there if we've talked before and you'd like to link up.
Either way, I may be blogging about this game and others like it again in the future as I move through the various scenes. The thought of turning exercise into a non-competitive game appeals to me very much!