Last month, I blogged about my desire to step back from the dystopian genre and read hopeful science fiction instead.
The rules were simple. I didn't require a story to start out in a hopeful or happy place, but I did want to read scifi that ended that way.
Since then, I've started to compile a list of books that fit this description. I'll be talking about one of them today and plan to gradually blog about the rest in the future. If you have recommendations for this series, I'd sure like to hear them. Leave a comment below or send me message about it on Twitter.
Woman on the Edge of Time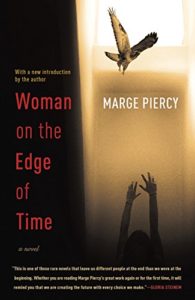 Marge Piercy's Woman on the Edge of Time was first published in 1976. It was about Consuelo Ramos, a woman whose life had been forever changed by poverty, mental illness, prejudice, and violence.
Nothing I'm about to say is a spoiler. All of it was mentioned in the blurb for this book, and there are many plots twists and important details from later chapters that I'll leave up to you to discover for yourselves.
I should warn you that the beginning of this book was filled with a great deal of pain. Consuelo's life had been incredibly difficult for many years before the audience met her. She'd made choices that seriously harmed other people, and she'd been on the receiving end of other people's terrible decisions as well. There were times when it read much more like a dystopia than anything else before the plot veered into other directions.
If you press forward through the dark beginning, though, you'll begin to see what I'm talking about when I refer to this as a piece of hopeful science fiction.
Shortly before involuntarily committed to a psychiatric hospital early on in this story, Consuelo began telepathically communicating with Luciente, a person who was living in an utopian society in 2137.
As their unlikely friendship blossomed, Consuelo eventually travelled through time to visit Luciente and see how people lived in the 2100s. It was like nothing Consuelo had ever seen before.
In Luciente's world, there was no poverty, racism, sexism, or violence. No one ever went hungry or was denied urgent medical treatment due to their lack of ability to pay for it. Everyone was given the opportunity to chart the course of their own lives regardless of who they were or what they'd previously decided to do with their energy and time. As long as it didn't harm anyone else, you could do virtually anything you desired with your time, from raising a family to making art to experimenting with new ways of growing crops.
This wasn't the only future world Consuelo visited, however. She later saw a dystopian society where the bodies and minds of poor people were used as a commodity by the wealthy. It was the opposite of the place Luciente lived in every way you could imagine. Roles were rigidly determined by who your parents were, and there was no way to switch from one part of that society to another. A person's time was never their own. There was always someone looking over your shoulder and telling you what you must do next.
Which Future Will Be Ours?
One of the things I enjoyed the most about this tale was how much time it spent explaining why Consuelo had been chosen to see and interact with these two very different versions of the future of humanity. She wasn't a passive player in these trips by any means. Her presence made a difference in ways she couldn't even begin to imagine so long as she was stuck in the psychiatric facility.
As Luciente would tell her over and over again, the decisions Consuelo made in 1976 were going to play a critical role in which version of the future came to pass. The thought of someone as socially marginalized and powerless as Consuelo actually being the key to changing the fate of the entire world tickled my imagination. I've almost never seen anything like it before.
Most science fiction and fantasy heroes that I've read about have had at least a few advantages in life, whether it's through being born with special powers or being apprenticed to someone who could teach them the skills they needed to defeat even their most powerful enemies.
The fact that Consuelo was expected to save the world without any magical abilities, mystical objects, all-knowing mentors, trusty sidekicks, or any other real sources of help in her battle made it impossible for me to stop reading. I had to know which version of the future would come to pass and if Consuelo would be able to improve the circumstances of her own life in the 1970s as well.
Hope Is the Thing with Feathers
With apologies to Emily Dickinson, I loved this story's approach to the concept of hope.
When I first began researching possibilities for this series, I wondered how easy it would be to find hopeful examples in a genre that has so often assumed the worst case scenario is the one worth writing and thinking about. The dystopian sub-genre has become so popular these days that I knew I'd have to do some digging to find characters who didn't live in that kind of world.
Since I'm also not the kind of reader who usually seeks out tales that attempt to be hopeful by brushing over – or even simply ignoring-  difficult topics like racism and sexism, my other concern was that I'd be left with stories that were hopeful only for readers who were able to suspend their disbelief and enter an imaginary world where no one ever dealt with serious, real world issues.
The beautiful thing about Woman on the Edge of Time was how it found hope even in the midst of all of the prejudice Consuelo fought against during her life. Her determination to radically improve the future for the sake of every person who had been or will be born was rooted in part in her hope that all forms of bigotry could be vanquished for good if she made the right decisions.
Final Notes
There are so many other things I want to say about this book, but I don't want to give away spoilers about it for anyone who hasn't read it before. If you have read it, I'd be happy to discuss it in much greater detail somewhere other than the comment section of this post.
Do keep in mind that this tale has many twists and turns along the way to the final scene. It's not something I'd recommend to anyone who needs to avoid any references at all to complex topics like abuse or how destructive habits can be passed down from one generation to the next. Consuelo and many of the other characters had many difficult experiences in their lives. This wasn't the sort of universe where someone swoops in and saves the good guys in the nick of time before anything terrible happened to them.
These characters knew more than their fair share of pain, but all of the hope they found along the way more than made up for it in my mind.
What hopeful science fiction stories have you been reading recently?