As I mentioned last week, weightlifting wasn't something that I immediately liked when I first tried it.
This week I'll dig into the reasons why that was so and how I tweaked them so that I could finally enjoy this form of exercise.
No Training, Limited Equipment
The high school I attended was small and rural. It had a tiny weight room for student athletes and the occasional gym students to use.
Our mandatory gym classes for ninth and tenth graders were my first introduction to this form of exercise.
The problem was, our gym teacher gave us no training on how to use the equipment in that room. It was also cramped, hot, and crowded there. We generally spent twice as much time waiting in line for the next machine as we did actually exercising.
The first college I attended had nothing but two stationary bikes in their fitness room. The second college I attended had a large room dedicated to weightlifting, but once again our instructor didn't teach us how to use the equipment safely or pick an appropriate workout for a complete beginner.
I was mildly interested in weight training by this point, but I was scared of accidentally hurting myself. This was the U.S. we're talking about, and my family considered ourselves lucky to have reached a solid lower middle class existence after my mom graduated from college and found a decent job when I was in my early teens. That is to say, there was little to no extra money lying around for unexpected medical bills if I accidentally hurt myself.
Sensory Overload
My limited experiences with gyms as an adult were of loud, hot, bright, crowded places.
The combination of those four things can be quite overstimulating to me, especially when I'm trying to concentrate or learn something new.
Kudos to everyone who is energized by all of that stimulation, but I'm not wired that way.
I've since visited one high-end gym that was a much more understated place to work out. There was no background music I could remember and the other people there were all working out quietly with plenty of extra machines, weights, and air conditioning to go around.
While it's currently out of my budget, I am willing to revisit that topic if I ever have so much money that paying those high fees every month feels worth it.
Baby Steps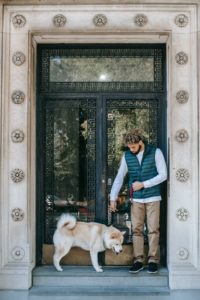 So here I was as an adult who wanted to build muscle but had no idea where to start or how to do it safely.
My first baby step into weightlifting was a cardio fitness routine called Dorm Room Workout that included a a few minutes of weight training in the middle and at the end of their routine. If I could still find it anywhere online, I'd link to it here!
A family member had previously given me a set of five-pound hand weights I'd tried using once or twice, but I'd loaned them out to another relative by this point.
What I did have on hand were some soup cans, so that's what I used for those portions of the Dorm Room Workout. They were light enough that I could copy the instructors moves precisely and didn't have to worry about hurting myself.
I started to gain a little more confidence in my physical abilities.
Slow and Steady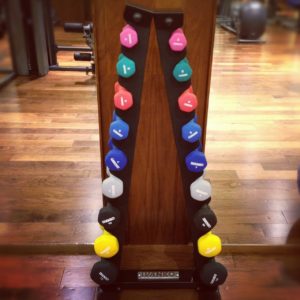 At this point, I started watching other videos of instructors doing weightlifting routines.
My other relative had returned the five-pound weights at this point, so I had something a bit more challenging to work with.
Once I'd seen the videos a few times and knew what to expect with them, I tried actually exercising to them. Yes, the trusty soup cans were trotted out first, but I eventually moved onto actual weights once I felt stronger and more confident in my abilities.
The nice thing about many weightlifting videos these days is that they include modifications. I couldn't do a full pushup when I began, so I did them against the wall or, when I was stronger, on the floor while leaning on my knees. There were some weightlifting moves I wasn't strong enough to do yet either.
Was my form perfect? No, but because the stakes were so low I adjusted it a bit each time and did my best not to move up to heavier weights or harder types of pushups until I was sure I was ready.
I no doubt could have proceeded much faster than I did, but I'm a cautious soul who would rather move slowly than suffer a painful injury that requires surgery or months of physical therapy to fix. To this day, I always try the modifications in new workout videos of any sort, but especially the weightlifting ones, before jumping straight into the more challenging versions of them.