Portia Kitcher was the first person to respond to my speculative fiction interview post. I'm excited to kick this series off with her responses!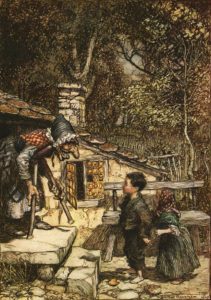 What was the first speculative story you ever remember reading?
Grimms Fairy tales – being read to at first and then reading them myself – over and over!
Who is your favourite author? Why?
Justin Gustainis. I like him because he writes characters I like and care about. His Occult Crime series combines my two favourite genres of fantasy and crime solving.
What do you like most about the genre(s) you read?
Good guys vs. bad guys with the good guys generally winning.
More and more authors seem to be writing cross-genre stories these days. How do you feel about this trend?
That depends – I don't like a lot of romance in my books – always keen to get back to the action, but I do like it when magic/occult combines with crime.
If you could name a pet after one character, which character would you choose? Why?
Yoda – because he is wise and small.  I am small and aspire to be wise.
What fictional world would you never want to visit?
Wonderland.
What fictional world would you want to visit?
Middle Earth.
Sharing spoilers with people who haven't read the book or seen the film/show is a hot topic on Twitter and across many fandoms. How do you feel about sharing or overhearing spoilers?
I personally wouldn't read the end of a book first so I don't want to read spoilers, and don't really understand why people do.
Which series do you think should be made into a TV show or film next?
Justin Gustainis Occult crimes series.
Which TV show or film do you think should be turned into a book?
Interesting question – I would watch a film/TV show of a book I had read but not the other way around.
About Portia: My plans to become a doctor were change due to family circumstances at the age of 17 when I left college and started work as a laboratory technician.  I got married at 18 had my two children, then went back to work 15 years later as a science technician in a school.  I then worked in Social Services as an administration officer for a supported employment agency.
I am now at home with my retired (second) husband.   I am an amateur musician and classical singer and also make celebration cakes.  I am currently doing a project where I am donating 60 of my hours to good causes.