My mother has decided she wants to be interviewed, so say hello to Tammy Schoch! This is so cool. If you'd like to join in on the fun as well, go check out all of the details on my speculative fiction interview post. 
What was the first speculative story you ever remember reading?
Back in the 70s when I was in elementary school, I read "A Wrinkle in Time."  I was mesmerized and smitten from that day forward. I was a little fearful of being discovered to have read it. I felt like I broke a rule or something – and I don't know why. It was so enticing that it felt like it was too tempting to be good for me.
Who is your favourite author? Why?
It's a tie between Neal Stephenson and Isaac Asimov. Both are brilliant, verbose, original in their ideas, obsessed with detail, broad in their approach, and can cover thousands of years in one novel.
What do you like most about the genre(s) you read?
I like the hope that I find in utopian science fiction. I enjoy the surprises that I find in fantasy, like in "Wool," by Hugh Howey. I like the psychological and sociological aspects that I find in dystopian writings, such as "Earth Abides," by George R. Stewart. I enjoy the sense of being grounded in millions of years of humanity from reading fictional pre-history, like what I find in "The Clan of the Cave Bear,"  by Jean M. Auel.
More and more authors seem to be writing cross-genre stories these days. How do you feel about this trend?
I don't think much about genres when I'm enjoying media. My favorite movie ever is "Avatar,"  my favorite TV series ever is "Star Trek," and my favorite books include "Earth Abides" by George R. Stewart and "Seveneves" by Neal Stephenson. Are those mixed genres?
[Lydia's response: Yes, I could see how those books count as mixed genres!]
If you could name a pet after one character, which character would you choose? Why?
I would need to name a pet "Data." He is the first non-human character that really caught my interest as I consumed science fiction.
What fictional world would you never want to visit?
I would not want to visit the planet in "Red Mars," by Kim Stanley Robinson. Way too much confinement in claustrophobic spaces when the planet was first colonized.
What fictional world would you want to visit?
I would want to visit the planet in "Blue Mars," by Kim Stanley Robinson. Much more hospitable to humans. I'd also enjoy the Mars depicted in "Out of the Silent Planet," by C. S. Lewis. I've always liked the two very different worlds between the civilizations who inhabited the valleys and the mountains. Going any farther from Earth than Mars is just too much for me to consider.
Sharing spoilers with people who haven't read the book or seen the film/show is a hot topic on Twitter and across many fandoms. How do you feel about sharing or overhearing spoilers?
I've never been sensitive to spoilers. But I've certainly learned, in this age of social media to not be that dreaded person who shares the spoiler.
Which series do you think should be made into a TV show or film next?
I would love to see Isaac Asimov's "Foundation Series" made into a movie. "Mara and Dann" by Doris Lessing would also be a great movie.
Which TV show or film do you think should be turned into a book?
The Netflix series "Glitch" would be interesting as a book. I'm waiting for more storylines from that one.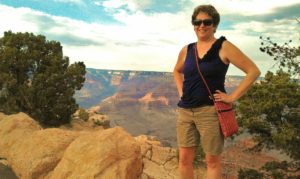 About: Tammy Schoch is a psychiatric nurse who lives in the United States with her husband. She taught her children to love science fiction, and they taught her the importance of avoiding spoilers on social media.
Other than science fiction, her interests include cycling, astronomy, and the occasionally retweet of interesting archeology articles. Her Twitter username is TammySchoch.