Hosted by Long and Short Reviews.
Interestingly enough, I have not read any of these books. I chose them for this week's prompt based on their beautiful covers alone.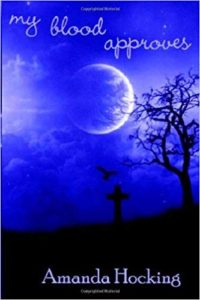 My Blood Approves (My Blood Approves #1) by Amanda Hocking
What I like about it:
Blue is such an eye-catching colour.
The gravestone and bird are making my imagination flutter at the thought of what they might mean.
As you're about to discover, I love seeing plants, animals, and other nature-related stuff on book covers.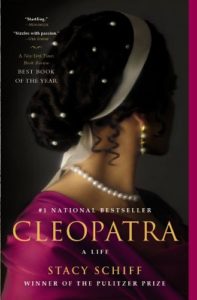 Cleopatra: A Life by Stacy Schiff
What I like about it:
Wow, this model is beautifully dressed.
Not seeing her face means we all get to imagine it for ourselves. I appreciate that.
Purple is my favourite colour, and her dress looks like it has lovely purple hues.
Vex (Celestra #5) by Addison Moore
What I like about it:
Butterflies are gorgeous creatures.
The metallic hue to these wings give this book a nice sci-fi flair.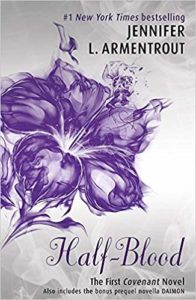 Half-Blood (Covenant #1) by Jennifer L. Armentrout
What I like about it:
Purple!
Not only is it purple, it's a whimsical purple flower!!
I am a creature of habit.
Fire Bringer by David Clement-Davies
What I like about it:
This shade of blue is so beautiful. It reminds me of  how refreshing that first day of cool autumn weather is after a long, hot summer.
I have many relatives who were or are hunters. The deer on the cover reminds me of their hunting trips during what could be chilly, foggy weather as well as the delicious taste of fresh venison when they were successful.
Fate (My Blood Approves #2) by Amanda Hocking
What I like about it:
There's something otherworldly about a sky that doesn't have a usual colour.
At the risk of repeating myself, purple covers always grab my attention.
Now I want to know what happened to the bird and gravestone in the first book in this series.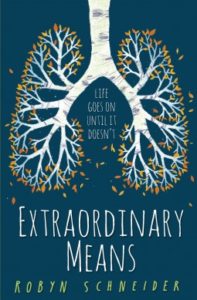 Extraordinary Means by Robyn Schneider
What I like about it:
I'm fascinated by the fact that the image on the front is both a set of human lungs and tree branches.
It leaves a lot to the imagination. In general, I prefer covers that hint at what they're about and let the audience discover for ourselves what those hints mean.
Apparently, I am only capable of adoring covers that are some shade of purple or blue.
I never would have guessed my cover preferences were so specific. This was such an interesting post to put together.
Have any of you read any of these stories? Do our cover preferences match in any way?
Click here to read everyone else's replies to this week's question. The image below is the list of upcoming prompts for this blog hop.