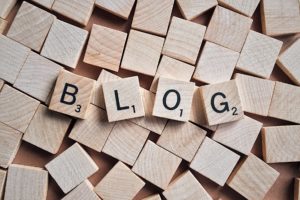 No, this isn't my way of saying that I'm taking a break from blogging. I've done it once or twice in the past for various reasons, but I have no current plans to ever do it again.
(If that ever changes, I'll take my own advice and let you all know in advance that I'm going quiet for reason X and expect to be gone for Y amount of time!)
The real reason why I'm asking is because this question came to mind recently after a new post popped up on a blog I follow that hadn't been updated in three or four years. Honestly, I'd forgotten it was even still on my RSS feed because of how long the gap between posts had been.
As soon as I realized the owner of that site had begun writing again, my face broke out into a grin. I'd missed his stories, and I was eager to see what he'd been up to while he was away. He'd disappeared so quickly that I hadn't had any idea what had happened to him. This was something that had made me feel a little sad even though I respected his right to fall silent.
This Is a Guilt-Free Zone
I know I could very well have readers out there who have abandoned their old blogs or other sites. If this applies to you, know that this post is a guilt-free zone. There are many different reasons why someone might need to stop writing, and in no way am I trying to make anyone feel bad for making the choice to step away from their site whether it was a temporary or permanent decision.
Quality vs. Quantity Content
Raise your hand if you'd rather wait for an excellent post, vlog, or other update than settle for a mediocre one that arrives sooner!
One of the things I wish I could change about Internet culture is its focus on churning out new content on a regular basis regardless of how well-developed that video, post, or other form of communication actually is.
I'm all for blogging on a schedule if you have the time and energy to devote to posting a certain number of times a day, week, or month for the long term. However, I also believe it's better to not post anything than it is to post a half-baked idea simply to stick to a predetermined schedule.
From what I've observed with friends who had to take breaks from their blogging or other activities online for various reasons, your core audience is still going to be there when you return. Speaking as someone who considers herself a part of the core audience of a few different folks, I will still be around in a month, a year, and even longer than that if or when a favourite writer ever decides to return to his or her blog, Youtube account, or other online hangout.
If You Can, Say Goodbye
I do have one request for friends who find themselves needing to pull back from their regular posting schedules. If possible, I'd love to see some sort of message from them saying that they'll be gone for a while. You don't have to say why you're leaving if you'd prefer not to (although I'd love to know if it's due to something that might change again in the future if you don't mind giving out enough details for this question to be answered).
Once again, this is not intended to make anyone feel guilty. Sometimes life makes it really difficult to leave that final update on a site or channel when you've decided to stop updating it for now or forever. I've known people who stopped writing after they received serious diagnoses of diseases that required the vast majority of their energy. Others fell silent after getting a new job, or having a child, or going through any number of major life changes that drastically altered how much spare time they had to share with the world.
Still, it's nice to know a little in advance when a site is shutting down and if there's any hope of it ever being revived. I find myself growing emotionally attached to some of the people I meet online. While I'd never ask any of them to share details of their private lives that they want to keep hidden, it sure would be nice to know why folks occasionally disappear and if it's okay to reach out to them every so often to see how they're doing (assuming they've become a friend and not just a blogger I follow).
When people choose not to do this, I always wonder what happened in their lives that made them walk away from the audience they'd built up.
Did they develop a mental or physical health problem?
Were Internet trolls bothering them?
Was it a bad case of writer's block?
Did they say everything they had to say on the topic(s) they chose to talk or write about?
Have they finally discovered Okunoshima, Japan, and are they planning to live with the bunnies there forever?
Do they want to be checked up on, or do they not even have enough energy for that much interaction from the folks who care about them?
The possibilities are endless. If only we could have even the slightest clue as to what is going on in the lives of these people and if it's okay to send a friendly message asking how they're doing.
Respond
Have you ever taken a blogging break? Has one of your favourite sites ever stopped getting updated? Do you think content creators should alert their audiences when they need to stop publishing posts or uploading videos?