Happy Holidays! Here is this week's gigantic list of comic strips, articles, recipes, and other links from my favourite corners of the web.
I have been slowly collecting all of these Christmas, Hanukkah, and other winter-holiday-themed links since last March, so there are more of them than usual. I hope you enjoy reading them as much as i enjoyed finding them for you.
Christmas Field Guide. The reindeer section was my favourite one.
The Christmas Armistice of 2014 via JamesTheo. While this post is a few years old now, the subject matter of it is as relevant as it was when it was first published.
It Needs to Be Said: Holidays Can Really Suck Sometimes. If this is a hard time of year for you, know that you're in my thoughts.
'Twas the Night Before Christmas via MBTTTR. I can't stop laughing at this.
We Wish You a Merry Chrismukkah. How do you balance Christmas and Hanukkah in an interfaith household? It isn't a question I've wrestled with personally, but I love this family's creative approach to it.
Festive Eating. Hopefully none of you will be overindulging this holiday season, but this is a pretty funny take on the problem of having one stomach but wanting to eat more like two or three stomach's worth of special holiday food.
Authentic Victorian Christmas Pudding via MimiMatthewsEsq. Would I eat this? I'm honestly not sure, but I'm glad to finally know what Christmas pudding is.
The Best Santa Letter Ever. No, this title isn't an exaggeration. Your mileage may vary, but it was the best Santa letter I've ever read as well.
More Thoughts on Santa Letters. Read The Best Santa Letter Ever before you check out this link.
Jolly Secrets You Didn't Know About Mexican Christmas via fabiolaofmexico. Some of these traditions sound like a ton of fun!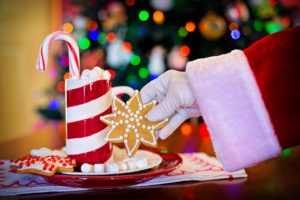 Festival of Reason via 18thCand19thC. What an interesting way to approach the holiday season. I suppose that Festivus is the modern equivalent of this!
Thomas Nast. Why am I sharing the biography of a man who died well over a century ago? Well, Thomas was responsible for the creation of one of the most iconic and recognizable parts of Christmas. If you haven't already guessed what I'm talking about, click on the link to see what this cartoonist drew.
From How Can You Help a Grieving Friend During the Holidays?:
Grief is hard any time of year, but the holiday season can feel particulary brutal. If you're trying to support someone you love, this comic is for you. And if you'd like some help educating friends and family on the best ways to support you, this comic is for you, too.
Dear Satan, the short film below, is narrated by Sir Patrick Stewart. It's about what happened after a little girl accidentally sent her Christmas wish list to Satan instead of Santa. I can't recommend it highly enough.