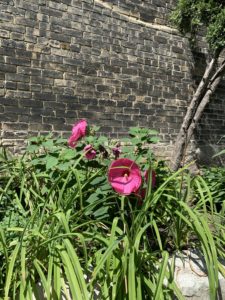 Each month I share photos from one of the parks in Toronto to show my readers what our landscape looks like throughout the year. This is the eighth instalment of this series.
Click on February, March, April, May, June, and July to read the earlier posts. It was a balmy 22 Celcius (72 Fahrenheit) on the morning I took this month's photos.
August has been peculiar this year like that. Our hottest days so far this month haven't been much more than 35 C (95 F), and we've even had a few days that were only about 28C (84F) at their peak. That's about 10-15 degrees cooler than it was for much of July which is a welcome relief if also pretty unexpected.
This makes me wonder what autumn will be like. Will it be hot like it was last year, or are we in for a quick descent into winter? Only time will tell.
Here's one big difference between last month and this one – it took me a few tries to get a clear shot of the front of the park due to the increase in vehicular and foot traffic. I ended up needing to go back at a different time to try again. That hasn't happened since this photo project began. People must be working from home less and travelling more now.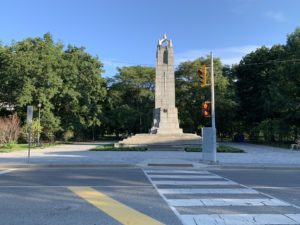 Once again, everything is green and growing so quickly you can practically see it sprout up taller. Okay, so that might be a slight exaggeration, but the vegetation in Ontario does grow very quickly at this time of the year.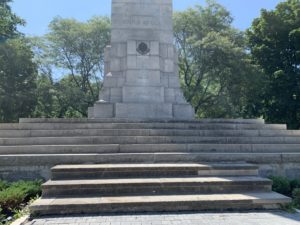 Winter is coming soon despite the heat of August. All of those seeds need to be dispersed and those roots grown deep and true before then.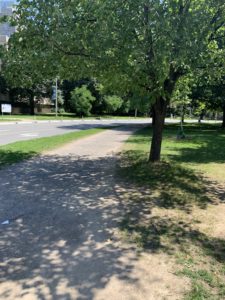 The running trail was well used this month. Thanks to all of the thunderstorms we've been getting, it's not very dusty at all either which is also out of the ordinary for August.
This next photo might alarm you all just a tad, but let us all clasp hands virtually and get through this fluffy menace together.
Yes, the sky was only 90% blue on this month's visit! There were white clouds peeking out in just about every direction I looked.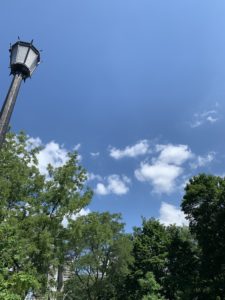 Contrary to what this series might have lead you to believe, Toronto doesn't always have blue skies. In fact, we spend half or more of the year with a permanently overcast sky. It generally happens in the autumn and winter regardless of whether there are storms in the forecast for that particular day, and it is a big reason why I love my light therapy lamp so much. Ha!
Keep an eye out for a dark, cloudy sky that seems to last forever soon. I'm guessing it will return in October this year, but it could be a little sooner or later than that.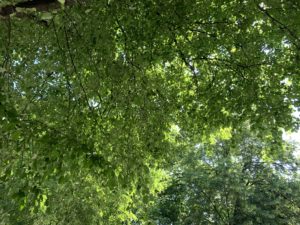 But summer remains for now. I wish you all could hear the rustle of the leaves here. Like I've said before, it's one of the most soothing sounds I know. You can hear it everywhere if there isn't too much background noise.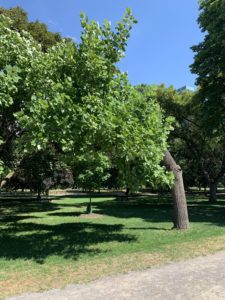 Our tree friend who lost half of its branches continues to do well. There was a tent* and people nearby that I needed to avoid photographing, but the shorn-off section looks like it healed nicely.
*Some people who are homeless have set up tents to live in this park this year. From what I understand, shelters in Toronto don't have enough space for everyone, there are many Covid-19 cases in them, and there are long waitlists for housing for folks from this demographic group. I'm not ethically comfortable photographing people in such precarious circumstances. If only I had the funds to get apartments for all of them.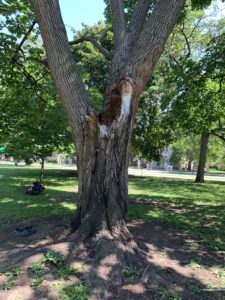 The much larger tree that lost a third of it's branches and leaves is still around. I noticed what appeared to be some cracks in its trunk. I'm not an arborist, but I do wonder how it will fare with our next ice storm.
Hopefully, it has repaired itself enough to make it through this upcoming winter (or even the next bad thunderstorm), but I think I'll avoid standing underneath all of those large, heavy branches in the meantime.
Some of the saplings that were planted earlier this year have developed brown leaves on them. It's a couple of months too early for trees to start changing colour, so this isn't a good sign. I hope these little trees do better in the future.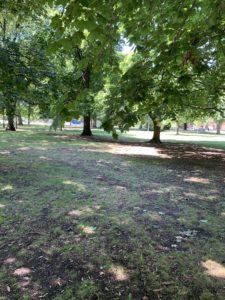 In happier news, the vast majority of the trees in the park seem to be doing well. This is the time of year when it feels wonderful to stand in the shady areas this urban forest provides. It's amazing to see how much of a difference it makes to experience August under a thick canopy of leaves versus standing in direct sunlight.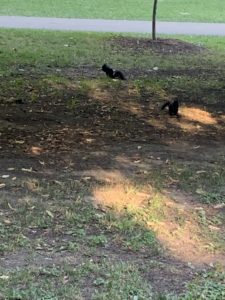 Even the baby squirrels agree! They're hard to photograph because of how small and easily spooked they are, but these little guys were about half the size of a regular squirrel.
One of my goals for this autumn is to get some better squirrel photos for you. Sometimes they're friendlier in the autumn when they're gathering up last-minute food before winter. (No, I will not be feeding them, only hopefully photographing them).
This is the time of year when the park is best enjoyed from a quiet, seated position. Luckily, there are plenty of places to sit there.
And this is where I'll leave our monthly visits of the park until September. Stay safe out there, everyone!