Disclaimer: I am not a doctor, and this post is in no way intended to give out medical advice. Please seek the advice of a qualified medical professional before beginning this or any other type of workout routine. 
In addition, I'm not receiving any kind of compensation for this post, I'm not affiliated with anyone at Fitness Blender, and there is never affiliate marketing of any sort on my site in general. I'm reviewing this workout simply because I loved it and think some of you might, too.
About the Toned, Lean Arm Workout
This is a 20-minute upper body workout that exercises your rhomboids, shoulders, biceps, triceps, and chest. There is no warmup or cool down included in it, so be sure to get those routines in before and after completing it. 
I'm brand new to this routine, and I find it challenging. Unless your upper body strength is much more developed than mine, I wouldn't recommend it to beginners. 
You will need a pair of hand weights for this workout. A yoga mat is helpful, too, although it is not strictly necessary. 
Fitness Blender's Toned, Lean Arms Workout
My Review
I've been having such a great time sharing my thoughts on various workouts with you over the past nine months. While I do plan on writing further instalments in this series as I try new videos, it will probably be a while before I update it again. The Brutal Butt & Thigh, Ab Blasting, and Toned, Lean Arm workouts are part of my current routine, and I don't see that changing in the near future.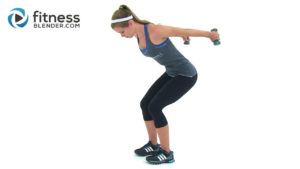 What I enjoy the most about the Toned, Lean Arm workout is the diversity of moves in it. My weightlifting sessions didn't happen as regularly as usual over the past few months for various reasons, so I have lost a bit of my former strength. 
While this does make this routine more challenging, the fact that it includes easier moves between the more difficult ones keeps me motivated. I probably would have moved back to a different, lighter workout if not for this fact. 
This is something I'd recommend using a lighter set of weights for than you would normally choose. I scale back to the lightest set of weights I currently own (at 7 pounds each…maybe I should buy smaller ones for this routine?), and I still have trouble doing some of the moves because of how many different muscle groups they work at once. It does give me the motivation to keep plugging away at it, though! 
There were some nice modifications offered for a few of the moves. For example, Kelly (the instructor and demonstrator) recommended doing standing pushups against a wall if you weren't yet strong enough to do a traditional one on the floor. I appreciated that, and I would have liked to see more of those alternatives offered for other sections of the workout. Fitness Blender has done this more often in the past than they did in this particular video. It's one of the reasons why I generally recommend them so highly. Hopefully, they'll go back to their old patterns in the future. 
In general, this is something I'd recommend. I was pretty pleased with the way it was set up and how much effort I had to put into keeping up with the pace of it. 
Every time I review a Fitness Blender video, I comment on the lack of music in them and how much I appreciate that. The only thing I will say on that topic this time is that I'm once again pleased to see such a distraction-free routine. 
Previous Reviews of Free Youtube Workout Routines:
Bipasha Basu's 30-Minute Aerobic Dance Workout
Fitness Blender's Brutal Butt & Thigh Workout
Fitness Blender's Ab Blasting Interval Workout