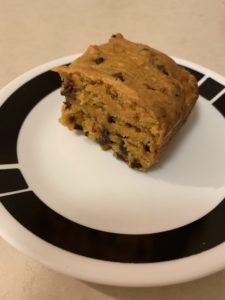 I'm veering a little off-topic today and sharing one of my favourite autumn recipes.This is something I found on a vegan blog many years ago. If that site still existed, I'd link to it and give credit.
Not only is this cake dairy-free, it can be soy, egg, and nut-free as well as long as you select allergen-safe chocolate chips for it.
This means that it can be shared with many different types of people who are often otherwise left out of the dessert festivities during Thanksgiving, Halloween, and other holidays.
And who doesn't love inclusive desserts?
Ingredients
Cupcakes (double these measurements for a cake)
1 cup pumpkin puree
1/3 cup oil
1 cup sugar
1/4 cup non-dairy milk
1 tsp vanilla extract
1 1/4 cups flour (all purpose)
1/2 tsp baking powder
1/2 tsp baking soda
1/2 tsp cinnamon
1/4 tsp salt
1/2 cup chocolate chips
Cinnamon Icing (Optional)
1/2 cup confectioners sugar
1/2 tsp cinnamon
2 Tbsp melted vegan margarine (or similar oil/fat substitute)
1 Tbsp non dairy milk
1/2 tsp vanilla extract
Directions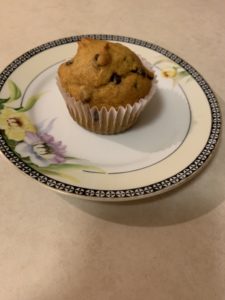 Preheat oven to 350 F.
In a bowl, stir the first 5 ingredients. Then sift the flour, baking powder, baking soda, salt and cinnamon together in a second bowl. Stir with a fork as using a hand mixer will make the batter gummy. Once combined, fold in chocolate chips.
Fill cupcake liners 2/3 full (if making cupcakes) and bake for 22-24 minutes or until a toothpick pushed into the middle of one of them comes out clean.
If you're making a cake, lightly grease an 11×7 baking pan, pour it in, and bake it while using the same toothpick trick to see when it's done. This takes about 30-35 minutes in my oven.
Cool completely before icing them.
To make the icing, stir all of those ingredients together gently. The icing will naturally be a bit runny, so you really don't want to be using it on a warm cake that will only make it runnier.
Like I said before, double this recipe for a cake.
Yes, you can use any sort of oil you have on hand. I recommend using white flour for it, but do let me know how it is with whole wheat pastry flour if you decide to go that route.
The pumpkin puree makes this cake quite moist and dense. The sugar and chocolate chips create a pretty sweet treat, so I generally skip the icing altogether.
This cake freezes well. Let it thaw gently at room temperature for a few hours or until it's soft all the way through.
My local grocery store sells chocolate chips that are free of the top eight allergens, including milk, soy, eggs, and nuts. If you can't find something similar at your local grocery store, check any health food stores that might be nearby. You could also order them online in many areas if you plan ahead a little.
Enjoy!