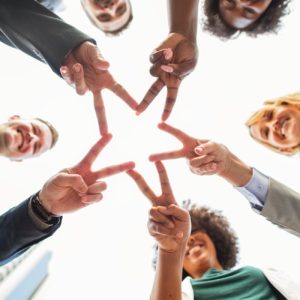 Before I dive into today's topic, I'd like to make this clear that this post was written as a gentle nudge for people who'd have the time and energy to dedicate to blogging if they knew about the individual and societal benefits of doing such a thing
It is not meant to be a commandment for our friends who don't (or no longer) have the emotional bandwidth for such a thing. If this describes your life, take care of yourself. I hope things improve for you soon.
Everyone else, keep reading.
Yesterday, one of the blogs I follow shared a link to a site called Parent Hacks.
Asha Dornfest wrote a post there recently about the ways people connected online in the 2000s. Blogging was much more common back then, and it was rarely if ever done for profit.
Instead, people formed communities in the blogging world based on their interests and experiences for the sheer joy of it.
Google did (barely) exist back then, but it wasn't the best way to find new sites to read. Instead, you met folks through links on other sites or by clicking on their username when they shared an interesting comment on a site you both followed.
I remember following links from the blogs I was already a fan of then to new sites that introduced me to folks who lived in places that were nothing at all like the small, midwestern town where I was growing up. Some of them lived halfway across the world. Others had life experiences that I knew nothing about, and they were gracious enough to explain what it felt like to be them.  This process of getting to know strangers over the Internet lead to some beautiful friendships (and even a few marriages, from what I recall).
It also made the Internet a better place to visit, and I've been saddened by the slow disappearance of this culture since then.
Asha wants to bring this sense of community back to the Internet, and she's especially calling on former bloggers to help:
Our blogs could once again be that, writ large, distributed across geographical, political, racial, religious, ethnic and gender lines. No silos, no algorithms. Just real people sharing real stories so other people can read and comment and feel a part of those stories and be reminded about what connects us. Incubating community without a specific agenda beyond sharing of ourselves and connecting people.
Her post specifically talked about rebuilding the United States, but I think this should be something that's done across the world. The Internet has too often been used for negative purposes. Luckily, this same tool can be used to bring people together instead.
The hashtag that Asha invented for this movement is #netpositiveblog. I will be using it on Twitter, and I hope you'll all check it out as well.
Need Help?
If anyone reading this needs help figuring out how, when, or what to blog about, I'd be happy to offer you some tips whether you're a returning blogger or a brand new one.
I've been blogging for more than fifteen years now across various platforms, and I have a few tricks tucked up my sleeve for everything from coming up with consistent ideas for new topics to connecting with the wider writing community in general.