Hosted by That Artsy Reader Girl
This week's prompt required some brainstorming for me because I'm the sort of reader who is drawn to characters and plots that I would not actually want to spend much time with in real life. For example, I love rereading Mary Shelley's Frankenstein, but I would never want to join Dr. Frankestein as he sewed pieces of various corpses together and then electrocuted them to see if they could be reanimated.
Needless to say, watching Netflix and ordering in a Hawaiian pizza is much closer to my idea of a relaxing date night. If I'm leaving the house, I'd rather go on a long, exploratory walk than buy tickets to something that must be attended at a specific time. The characters I'm about to discuss are the sorts of folks that I think would at least occasionally enjoy my laid-back approach to life.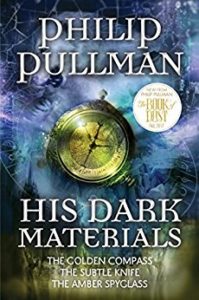 1. Lyra from Phillip Pullman's The Golden Compass. 
What we'd do together: 
Visit a museum on one of the nights when they offer free or half-price admission. She'd try to sneak into one of the employee-only rooms. I'd attempt to convince her to give up on this plan and probably not succeed at that. We'd have a wonderful time comparing what I'd seen in the official exhibits and what she'd found in the archives, though!
2. Fern from E.B. White's Charlotte's Web. 
What we'd do together: 
Visit a local animal shelter, adopt two of the dogs there that no one else wanted to take home, and live happily ever after.
3. Liesel from Markus Zusak's The Book Thief. 
What we'd do together: 
Bake chocolate chip cookies, spend a few hours reading in companionable silence, and then talk about what we read.
4. Matthew Cuthbert from L.M. Montgomery's Anne of Green Gables series. 
What we'd do together: 
He'd teach me how to fix farm equipment and take care of livestock. I'd teach him how to turn on a smart phone and surf the Internet. Hopefully, we'd both be able to swap tips about living with social anxiety. (I genuinely believe he would have been diagnosed with it if he lived in our era!)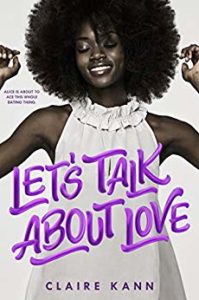 5. Alice from Claire Kann's Let's Talk About Love. 
What we'd do together: 
Since Alice is asexual, I'm demisexual, and we're both biromantic, we'd probably start off comparing notes on what dating and relationships are like for queer people on the aro spectrum.
After that, I'd invite her to play cooperative board games with me. She struck me as the sort of person who might really enjoy working together so that everyone wins.
6. Faythe from Rachel Vincent's Shifters series. 
What we'd do together: 
We'd discuss feminism and gender equality. I loved this character, but I really disliked the were-cat culture she'd been raised in because of how much the men in her pack tried to control the women around them. She deserved to be treated so much better than she was by most of the men around her.
I'd also be interested in watching her shift between her human and were-cat forms if she was comfortable doing it in front of me. The book's descriptions of this process were fascinating.
7. Bilbo Baggins from J.R.R. Tolkien's The Hobbit.
What we'd do together: 
Cook a feast, invite friends over, and have a big, cheerful dinner party. Hopefully, there would be some dancing and joke-telling, too, after everyone had eaten their fill.  I know there are far larger and more powerful characters in this universe, but I've always identified with the hobbits more than anyone else. They knew how to live a simple, happy life.