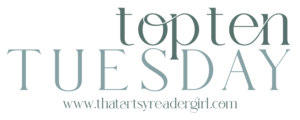 Hosted by That Artsy Reader Girl
My list for this week is a hodgepodge of books as it often is. I'll be quite curious to see what everyone else has come up for it as most of my answers were of older stories and I wasn't able to come up with the full ten answers this time.
1. Liesel from The Book Thief by Markus Zusak
2. Matilda from Matilda by Roald Dahl
3. Guy from Fahrenheit 451 by Ray Bradbury
4. Clay from Mr. Penumbra's 24-Hour Bookstore (Mr. Penumbra's 24-Hour Bookstore, #1)
by Robin Sloan
5. Francie from A Tree Grows in Brooklyn by Betty Smith
How long did it take all of you to come up with your lists?