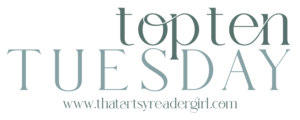 Hosted by That Artsy Reader Girl
I like to set (mostly) realistic goals at the beginning of each year. Let's see how many of these I complete before 2024 sneaks up on us.
1. Read more classic novels this winter. It's something I do every winter to expand my vocabulary and explore stories that generations of people have loved.
2. Submit a Top Ten Tuesday theme to Jana that she ends up using. (I am 99% joking here, but I mentioned this in a previous goals post a few years ago and would be thrilled if she picked one of my suggestions someday).
3. Enjoy lots of ghost stories. Those of you who have read this blog for a while will know how much I like them in general, but they're even more amusing on cold, dark winter nights.
4. Attend more library and other bookish events either virtually or in person. They're such a great place to learn about our world and meet other friendly book lovers.
5. Read more nonfiction. I love learning about everything from science to history at my own pace and without any pesky tests or grades to worry about.
6. Patronize independent bookstores. This pandemic radically altered my habits, and it's been years since I shopped for something other than food, medicine, or to replace something like shoes or a shower curtain that have worn out.
7. Eat more food featured in books. For example, last year I finally tried Turkish delight for the first time after spending many years wondering what on earth Edmund was talking about in C.S. Lewis' The Lion, The Witch, and the Wardrobe. What other literary or bookish foods or beverages should I enjoy next?
8. Try poetry again. I loved it when I was a teenager but have struggled to get back in that genre since becoming an adult.
9. Buy bookish socks. Do I need more socks? Well, technically no, but surely there is something to be said for adding just one more pair of socks to the rotation if they make a clever reference to something literary, right?
10. Convince the entertainment industry to make excellent film or television adaptations of all of our favourite books. Hehe!