Hosted by That Artsy Reader Girl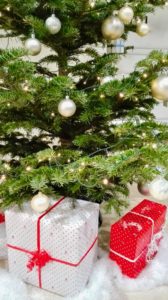 This week's topic was Books I Hope Santa Brings, but my TBR list is already so huge that with a few exceptions I'll make note of below that I'd rather not receive more books from Santa or anyone else this holiday season!
With that being said, there are some bookish items I wouldn't mind receiving this holiday season.
Uninterrupted Reading Time 
What could be better than curling into a quiet corner of the house and reading for as long as your heart desires?
Dairy-Free Chocolate/Sweets
Grocery stores and coffee shops are filled with scrumptious holiday sweets at this time of the year.
I always get excited when I read the ingredient list for a new potential treat and realize that it's safe for my milk allergy!
Caffeine-Free Hot Drinks
I don't generally eat or drink while reading, but when I do these are the types of things I like to rummage around for in my cupboards. Some stories simply work better when you have something to sip or nibble on while reading them.
If Santa also wants to make my sweets and beverages low-calorie, I'd promise not to give away his secret for accomplishing that.
A Waterproof Case for My iPhone
So I can safely read ebooks while taking a bath, of course!
Warm Reading Socks
My feet grow cold in the winter. They need all of the coziness they can get.
Happy Endings for Protagonists 
Okay, and maybe some of the antagonists, too, if they truly regret their mistakes.
Audiobooks 
These are the one sort of book I wouldn't mind receiving over the holidays because I can "read" them while exercising or cleaning my house.
I've found that the fantasy and young adult genres works particularly well for me in these scenarios, but I wouldn't say no to science fiction, biographies, or many other genres as well.
Sequels to Unfinished/Disappointing Series 
I don't want to hurt any author's feelings by naming specific series here, but there are certain series that really should have been given better (or, in some cases, any) endings. I'd sure love if it they could all be wrapped up properly and respectfully.