Hosted by That Artsy Reader Girl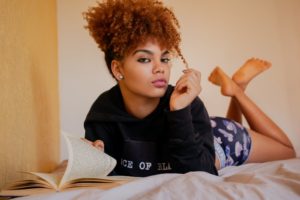 I don't know about you all, but I tend to gush about the same books over and over again.  It was fun to look through the lists of books I've read in the past and pick out a few that I generally don't mention.
1. Westlake Soul by Rio Yours
Why I Rarely Mention It: The subject matter is just odd enough that it doesn't fit into most conversations or blog posts.
2. Angelica: A Novel by Arthur Phillips.
Why I Rarely Mention It: The narrator offers up two possible explanations for what's going on in this chaotic household. One has to do with a restless ghost, and the other one involves horrific child abuse. I have friends and followers who would find the second explanation triggering, so I'm pretty shy about blogging about this book even though the paranormal aspect of it was fabulous.
3. The Harry Potter series
Why I Rarely Mention It: I used to talk about them here much more often. Then I ran out of things to say about them…for now?
4. MaddAddam by  Margaret Atwood
Why I Rarely Mention It: This was a great story, but I didn't have a lot of coherent thoughts about it after I read it. Does this happen to anyone else?
5. Only Ever Yours by Louise O'Neill
Why I Rarely Mention It: The ending made me angry. Don't get me wrong – it fit the theme of the story perfectly, and I totally understand why the author made that choice. But I so badly wanted it to end more hopefully that I have trouble writing about what actually happened.
6. The Last Neanderthal by Claire Cameron
Why I Rarely Mention It: The cliffhanger ending makes it hard for me to write about this one without giving away spoilers. I'm also hoping the author will eventually write a sequel. Her characters sure seem like they have a lot to say still!