Hosted by That Artsy Reader Girl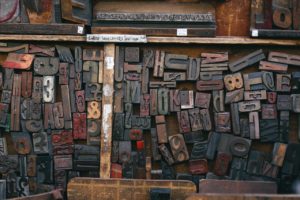 I'm stretching the definition of the term book a bit for today's prompt. You see, it's impossible for me to narrow this list down to fictional stories.
Which tales make me smile has evolved throughout the course of my life. My answer at age 5 would be completely different than what I'd answer at age 20 or today. And who knows what will entice me when I'm 80!
What has never and will never change is my love of words, the meanings of words, and knowledge in general, so that's what I'm tweaking this post to focus on.
The New Oxford American Dictionary by Oxford University Press
Roget's International Thesaurus  by Peter Mark Roget, Robert L. Chapman
The Complete Rhyming Dictionary by Clement Wood, Ronald J. Bogus
Most people probably wouldn't sit down and read these sources like like they were novels, but I've been doing that since I first learned how to read.
Yes, the encyclopedias at my grandparents' home were decades out of date by the time I discovered them, but I still adored reading about what the world was like in the early 1960s when they bought them!
Knowledge is power. I see everything from the Internet to antique books tucked away in the corner of someone else's house as marvellous opportunities to learn about things you might have never otherwise discovered.