Hosted by That Artsy Reader Girl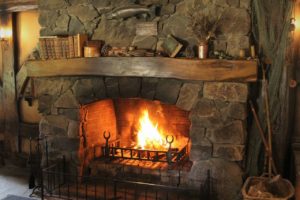 I could talk about this topic for ages! Let's see if I can keep my list down to a reasonable 10 or so answers.
I will expound on some, but not all, of my responses.
1. Anywhere that has a cozy fireplace.
Yes, I know it isn't healthy to breathe in the particulates from wood smoke over the long term, but I still find the crackle of a fireplace to be so relaxing. It's also sometimes the beginning of wonderful adventures in certain stories!
2. Libraries.
3. Cemeteries.
4. Old buildings, haunted or otherwise. 
5. Boarding schools.
I'd never want to attend one or send my (totally hypothetical) children to one, but I do like reading about them.
6. Mostly quiet beaches.
Completely deserted beaches frighten me a little, and loud, crowded beaches aren't much fun at all. The mostly quiet ones are where it's at!
7. Museums, especially after hours. 
8. Funerals.
One of the benefits of being a preacher's kid is that I got to spend a lot of time attending funerals for people who weren't related to me. There are memorable and even occasionally beautiful moments to be found within all of that grief.
9. Kitchens.
They're a very underrated setting if you ask me! Not only are kitchens (hopefully) filled with amazing food for everyone to share, they're often the part of the house where the most intimate and memorable conversations happen.
I can think of a few different relatives of mine who announced exciting news like a new pregnancy in someone's kitchen. Reading about characters cooking meals or cleaning up after them always makes me hope someone in that scene is about to share thrilling news.
10. Cold, snowy woods.
The Lion, the Witch, and the Wardrobe taught me that all sorts of wonderful things can happen in them.
11. Any forest where the seasons are changing.
The first subtle announcements of an impending spring or autumn are probably the most striking, but there's something memorable to be found every time we begin to say goodbye to one season and hello to the next.
I think 11 answers is a pretty decent number, so I'll stop writing here.