Hosted by That Artsy Reader Girl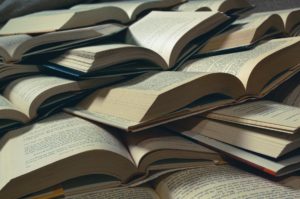 This week's topic was a little tricky for me, so I wasn't able to come up with a full list of ten responses.
Interestingly enough, all of the answers I did think of were from the Young Adult genre!
I don't know if that genre tends to have fabulous secondary characters in general or if we tend to remember them better if we first meet them as kids or teenagers. Then again, maybe there is another explanation for that entirely.
What do you all think? Have you noticed a similar pattern in your reading habits?
There are some mild spoilers in this post, so reader beware if you haven't read any of these titles yet. I'm hoping they're all old and well-known enough that you've all either read them or already know they're not your preferred reading material.
Book: The Hunger Games by Suzanne Collins
Character: Haymitch Abernathy
Why I Loved Them: Physically, he survived a previous Hunger Games. I'd argue that his emotional survival of that event was an entirely different story due to how his alcoholism and harsh, self-imposed social isolation afterwards were described in this series. If only we could have a prequel that dug into his life in greater depth. Wouldn't it have been fascinating to see how he survived and why his life turned out the way it did?
Book: The Giver by Lois Lowry
Character: Jonas' father
Why I Loved Them: Jonas' father worked as a Nurturer. That is to say, he took care of infants and young toddlers before they were assigned to permanent homes. Occasionally, he was expected to end the lives of infants who were disabled or otherwise didn't meet the Community's criteria for citizenship. I can't imagine being expected to do that. What did he really think about his assigned occupation? Was he horrified by that portion of the position when he first began training for it?
Book: The Harry Potter series from J.K. Rowling. (I will always love this series, but have chosen not to include a link to it due to the author's behaviour).
Character: Luna Lovegood
Why I Loved Them: She was an incredibly perceptive and hopeful character. I thought her quirkiness made her more memorable in many ways than the actual protagonist of this series.
Book: The Hate U Give by Angie Thomas
Character: Uncle Carlos
Why I Loved Them: His perspective as a detective who was so emotionally connected to the key witness gave him a unique view into this case. While I totally understand why the story was told through Starr's eyes instead due to her being the only witness of Khalil's murder, it would have been cool to spend more time exploring how Uncle Carlos felt about all of it.