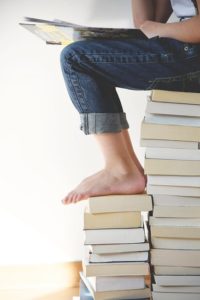 As I mentioned a year ago in What I Read in 2016, every January I blog about what I read in the previous year. Over half of the books I read in any given year are for a review site that I volunteer for under a pseudonym, so I omitted their titles from this post for privacy reasons.
When I first began keeping track of this, I read poetry occasionally. I still enjoy individual poems, but for the past few years my interest in this genre has dropped sharply as far as full books of it go.
The science fiction numbers look like they've been decreasing, but that's because most of the sci-fi I read these days has been for that review site. I'm still as interested in it as ever.
I did read a lot more young adult fiction this past year than I have in the past. That was a fun experience, and it's something I'd like to repeat in 2018.
One final big change I've noticed in my reading habits over the past six years has been when I do (and don't) read a lot. It used to be fairly consistent, but now I read much more in the summer and the winter when the weather is too far on either extreme to spend a lot of time outdoors.
Biographies, Autobiographies, and Memoirs
"A Long Way Home" by Saroo Brierley
"Gold Rush Queen: The Extraordinary Life of Nellie Cashman" by Thora Illing
"My Life My Love My Legacy" by Coretta Scott King
"The Waiting" by Cathy LeGrow
"The Alpine Path" by Lucy Maud Montgomery
"Marjorie Too Afraid to Cry" by Patricia Skidmore
"Simeon's Story: An Eyewitness Account of the Kidnapping of Emmett Till" by Simeon Wright
Graphic Novels
"Secret Path" by Gord Downie
History
"The Radium Girls: The Dark Story of America's Shining Women" by Kate Moore
"Unmentionable: The Victorian Lady's Guide to Sex, Marriage, and Manners" by Therese Oneill
"Snacks: A Canadian Food History" by Janet Thiessen
"Sick Kids: The History of the Hospital for Sick Children" by David Wright
"A Square Meal" by Jane Ziegelman
Mainstream Fiction
"Clan of the Cave Bear " by Jean. M. Auel
"The Mammoth Hunters" by Jean M. Auel
"The Valley of Horses" by Jean M. Auel
"The Snow Child" by Eowyn Ivey
"The Rosie Project" by Graeme Simsion
Science Fiction and Fantasy
"The Handmaid's Tale" by Margaret Atwood
"The Utterly Uninteresting and Unadventurous Tales of Fred, the Vampire Accountant" by Drew Hayes
"The Ghost Line" by Andrew Neil Grey and J.S. Herbison
"Children of the Dust" by Louise Lawrence
"Sweetlings" by Lucy Taylor
Science and Medicine 
"Almost Human: The Astonishing Tale of Homo Naledi and the Discovery that Changed Our Human Story" by Lee Berger
"The Discovery of Insulin" by Michael Bliss
The Salt Fix: Why the Experts Got It All Wrong and How Eating More Salt Might Save Your Life" by Dr. James DiNicolantonio
"The Case Against Fragrance" by Kate Grenville
"Big Chicken: The Incredible Story of How Antibiotics Created Modern Agriculture and Changed the Way the World Eats" by Maryn McKenna
"Woolly: The True Story of the Quest to Revive One of History's Most Iconic Extinct Creatures" by Ben Mezrich
"Inferior: How Science Got Women Wrong and the New Research That's Rewriting the Story" by Angela Saini
"The Case Against Sugar" by Gary Taubes
"Astrophysics for People in a Hurry" by Neil DeGrasse Tyson
Sociology and Psychology
"We Should All Be Feminists" by Chimamanda Ngozi Adichie
"Stand Firm: Resisting the Self-Improvement Craze" by Svend Brinkmann
"Boundaries: Where You End and I Begin" by Anne Katherine
"Dealing with a Narcissist" by Darlene Lancer
"Coping with Your Difficult Older Parent" by Grace Lebow and Barbara Kane
"Why Won't You Apologize?" By Harriet Lerner
"The Atheist Muslim" by Ali. Rizvi
"Think Small: The Surprisingly Simple Way to Reach Big Goals" by Owain Service
Young Adult 
"The Crossover" by Kwame Alexander
"Allegedly" by Tiffany D. Jackson
"Sold" By Patricia McCormick
"A Monster Calls" by Patrick Ness
"The Nest" by Kenneth Oppel
"The Hired Girl" by Laura Amy Schlitz
"The Hate U Give" by Angie Thomas