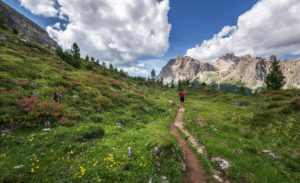 Signs of spring are popping up everywhere now here in Ontario. If you follow me on Twitter, you might have noticed the photos I've been sharing there of our first flowers of the year.
It's still a little too muddy and chilly outside to spend much time traipsing around out in nature,  but I'm hoping the weather will become nice enough to change that soon.
In the meantime, I've been thinking about the joy of going on hikes or walks during this season. There are many reasons why this is the perfect time of year to do that. Today I'll be sharing three of them with you just like I talked about my love of autumn hiking last year.
The Peace and Quiet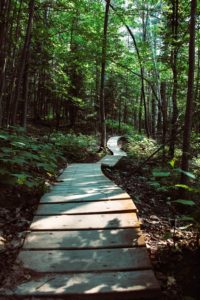 Toronto almost feels like an entirely different city in each of its four seasons. Things grow quieter here in the winter, especially once all of the December holidays have ended.
Summer is our busy, tourist season. There are certain parts of the city I don't visit much at all during those months because of how crowded they are when kids are out of school and families visit Toronto. Tourists are always welcome here, but I'd rather visit familiar landmarks in the off-season than wait in long lines outdoors to see them in the never-ending heat and humidity of August.
Spring and autumn are transitional times. We don't have as many tourists or warm weather at these parts of the year, but the weather can give us many unexpectedly beautiful days. It's been my experience that there aren't as many Torontonians venturing to a park or the woods in the in-between seasons for reasons I haven't quite figured out yet.
At any rate, I like these quiet, peaceful days out in nature. Sometimes they start out cold and foggy but later turn out to have several hours of mild, comfortable weather in the afternoon. It's always a gamble at this time of the year, but I like grabbing those few hours of decent weather when possible and using them to visit parks that haven't yet begun to see their full stream of warm-weather visitors.
I'd also much rather go wander around outside on a day that is slightly chilly and overcast than one that may leave me sunburned or overheated by the end of it. To each their own on that topic, though.
The Outdoor Exercise
After spending the last several months exercising indoors due to a mixture of weather and health-related reasons, I can't tell you what a relief it's been to start doing some workouts outside.
There's something so invigorating to me about feeling the sun and wind on my skin as I exercise. Watching all of the TV shows or exercise videos in the world can never replicate that sensation anymore than they can show what it feels like to greet a friendly neighbour you happen to run into while exercising outdoors.
Life isn't always conducive to this, of course, especially when I had a sore foot a few months ago and needed to avoid slipping or falling while it healed.  With that being said, it's a nice experience when possible, and I'm hoping to do it much more regularly now that I'm feeling like my old self and the sidewalks aren't dangerously slippery for anyone who needs to be careful to avoid a fall.
The Scenery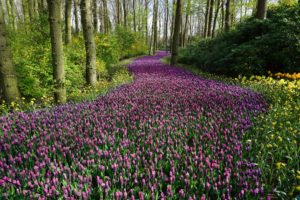 As I've mentioned on this blog before, spring is my favourite season of the year. Winter is cold, snowy, drab, and long here, so it's always a relief when the temperatures rise and I begin seeing bright splashes of colour on the landscape again after the flowers begin blooming.
I've already paused more than one walk with my spouse in order to snap a picture of a flower or new leaf on a tree. Every bit of colour that's added to the landscape makes me that much happier.
It's going to be even nicer once I'm able to visit a forest that isn't dormant at all any more! I can't wait to see flowers, leaves, and grasses growing no matter what direction I look.
If you're also a fan of hiking or taking long walks, what do you like most about it at this time of the year?