Sometimes I giggle at the fact that two people who hate horror movies somehow created a daughter who has developed a fondness for the non-gory types of it. I have no idea where my appreciation for getting scared comes from, but it's one of the few ways in which I'm nothing at all like either one of my parents.
Will my mom and dad be tempted to give any of these films a chance after reading this post? I'm not sure, but here are 5 movies I'd recommend to them and to anyone else who isn't a fan of the typical horror slash flick. There are horror movies out there that break the stereotypes about this genre, and some of them are truly excellent stories.
The true appeal of these films to me lies in the questions they ask the audience to answer about grief, regret, humour, friendship, and love. A story doesn't have to be a happy one in order for it to make me see the world in a different light or question some of the assumptions I've made about life works in the past.
I'll include a gore rating on a scale of 10 for each of them so you'll know which ones to avoid if you truly can't stand any blood at all.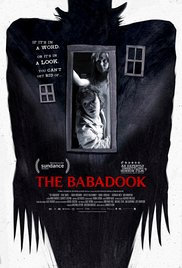 The Babadook (2014) Gore rating: 0/10.
Years before this tale began, the main character's husband was killed in a car accident while she was enroute to the hospital to give birth to their son. The storyline picked up years later while she is struggling to raise their son, who has behaviour problems, alone. The Babadook was a monster who soon moved into their home and couldn't be dislodged no matter how hard they tried to make him go away.
This isn't your typical horror movie. In fact, it has a lot more to do with grief than it does with anyone harming or being harmed by a supernatural creature.
My first experience with grief happened when my grandmother died. I was seven when she passed away, and it was the first time in my life I realized that I and everyone I loved was going to die someday.
What I love the most about this film was how it explored all of the ways grief interrupts a family's daily routine. You only need to bury a loved one once, but you'll be faced with their loss over and over again over the coming days, weeks, months, and years. There is no escaping these moments, and they will often pop up on otherwise good days when you least expect them to.
How, then, do you live with the shadow of grief – or The Babadook – always with you? When you discover the answer to this question, you'll know why I love this film so much.
Coraline (2009) Gore rating: 0/10.
When a little girl opened a secret door in her home, she discovered a parallel world that was surprisingly similar to our own at first glance. It was only when she met the hidden members of that world that she discovered it's dark secrets.
Not everyone is as who they appear to be when you first meet them. Sometimes they surprise you in wonderful ways, and at other times they reveal scary sides of themselves. I loved the fact that a kids movie addressed this so openly. It isn't something I'd recommend to young children, but the storytelling is perfectly creepy for older kids.
The price Coraline would have had to pay to stay in the other world was a nice touch as well. Telling you what it was would give away too many spoilers, but it was exactly the right amount of horror for this age group.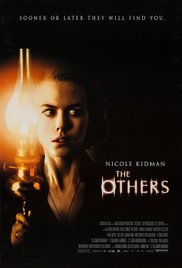 The Others (2001). Gore rating: 0/10.
This is my favourite ghost movie of all time. The plot followed a woman who was living in an old house with her two young children while awaiting news of the fate of her husband, a soldier. After doors began to unlock themselves and the curtains in certain rooms began to get flung open when no one was near them,  she soon became convinced the house was haunted.
Not only was the storytelling top-notch, but I loved the questions The Others asked the audience to ponder. What happens when you can no longer trust your own memory? How should a parent react to a child who is beginning to develop his or her own ideas about how the world works? How do you communicate with a ghost who refuses to acknowledge your existence? How long would you wait for someone you loved who may or may not even still be alive?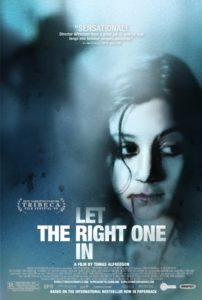 Let the Right One In (2008). Gore rating: 3/10.
Vampires are supposed to be many things: violent; bloodthirsty; unnaturally strong; immortal. This one happens to be a petite 12-year-old girl named Eli. After the main character befriended her, all of her secrets began to be revealed.
The scenes that lead to this rating were limited to a scene where Eli feeds on an adult man and another scene where a character is treated for an injury at a hospital. They were both brief, but you may want to skip this one if you can't handle seeing any blood at all.
For everyone else, this was a fascinating look at how people treat those they sense are different in some way. I really enjoyed how the writers explored the pain of social exclusion and what happens when someone has a secret that is so big it can't easily be contained.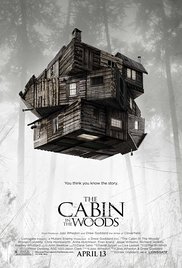 The Cabin in the Woods (2012). Gore rating: 7/10.
This is by far the goriest movie I'll be recommending to you today. Do not watch it if you are squeamish.
One of the things I love the most about Joss Whedon's storytelling is how talented he is at turning stereotypes on their head. Everything from what happens to characters who have sex or who will die first once the bad guys discovered the cabin full of vacationers was upended in this funny – if occasionally slightly bloody – film.
The plot was much more complex than zombies finding innocent people in the woods. I can't say much about it without giving aways spoilers, but I can tell you that the zombies were released from an underground facility and that there were  technicians working there who were placing bets on everything from who would be killed first to what would happen next.
This is the kind of film that should be watched by anyone who has ever watched a horror movie and shaken their heads at the senseless and often downright ridiculous decisions the main characters make in those kinds of plots. Nobody ever thinks they'd react the same way in that situation.
I enjoyed the commentary from the technicians almost as much as I did the twist ending. If you don't already know what a Joss Whedon ending can look like, be prepared for something completely unexpected.
Happy Halloween to all of my readers! I hope you found something worth checking out in today's post