Hosted by Long and Short Reviews.
Click here to read everyone else's replies to this week's question and to read everyone else's replies to this week's question and here to see the full list of topics for the year.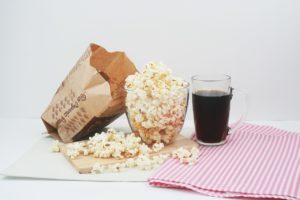 If you like eating snacks while watching movies, go put your favourite snacks on your shopping list.
I generally don't eat while watching films, but I might be tempted by this cola and popcorn!
I need lighthearted stories when I'm trying to get my brain to stop rehashing whatever happened earlier, so you won't find anything serious or scary on today's list.
Here are five films I'd rewatch when I'm having a bad day.
Definitely, Maybe (2008)
What It's About: A father telling his ten-year-old daughter a story about the three women he dated 11+ years before while she tries to guess which woman he described was her mother. Sometimes he must make humorous detours to avoid sharing inappropriate details of his dating life with his kid. There are a few light mystery elements, but this is mostly about their warm father-daughter relationship and what the dad wishes he'd done differently in life.
Why I Recommend It: The storyline is sweet and funny. I liked seeing what happens to characters after they broke up and how they successfully coparented their child. You don't see amicable breakups often in this genre, but it was handled gently and with a lot of humour. This otherwise followed most romantic comedy tropes, so that predictability was helpful as well.
Just Wright (2010)
What It's About: A no-nonsense physical therapist who is hired to help a basketball player recover from a career-threatening injury.
Why I Recommend It: I loved how opposite the two main characters were when we first meet them. I can't say much about their personalities without giving away spoilers, but it made discovering the similarities between them more interesting in the later scenes. This more or less followed the typical plot for a romance which another reason why I liked it. Sometimes it's nice to just relax and watch a storyline unfold without needing to solve any mysteries or trying to guess in advance how it will end.
Jumanji: Welcome to the Jungle (2017)
What It's About: Four teenagers who are accidentally sucked into a video game, become the characters in it, and must find a way to win the game before they run out of lives and get stuck there forever.
Why I Recommend It: The characters are ridiculous and delightful. I loved the way the storyline poked fun (in a friendly way) at all sorts of video game tropes. This does not require any sort of analysis. It simply exists to entertain, and there's something to be said for that some days!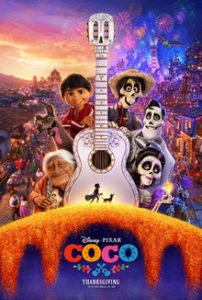 Coco (2017)
What It's About: A 12-year-old boy named Miguel who is accidentally transported to the Land of the Dead and must find his way home again before morning.
Why I Recommend It: Miguel was such a sweet, kind, and brave kid. I also loved the subplots of this film that were related to Dia de los Muertos and Miguel's relationships with various family members. There are a few minor mysteries to be solved if you want to, but it's also completely possible to ignore the clues, focus on the main storyline, and still have a wonderful time.
Honestly, I highly recommend Pixar films in general. All of the ones I've seen so far have been well-written, creative, funny, and otherwise excellent distractions from a bad day whether you're five years old or many decades older than that. They're somehow written for people from every age group simultaneously which is quite the accomplishment.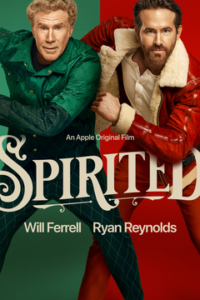 Spirited (2022)
What It's About: A modern retelling of Charles Dickens' A Christmas Carol. This time, the selfish rich protagonist is someone who is aware of A Christmas Carol and has zero interest in listening to the spirits of past, present, and future or changing his ways.
Why I Recommend It: It was wickedly funny and an amazing homage to the original. I loved seeing how everything was updated for our era where everyone has a smartphone and does not take kindly to paranormal strangers breaking into their apartments in the middle of the night.