Happy Halloween! Here is this week's gigantic list of comic strips, essays, videos, poems, bonus photos, and other links from my favourite corners of the web.
I've been slowly collecting them for months to ensure that everything you read here this week is somehow related to Halloween. It's a challenge that I relish every once in a while for my Suggestion Saturday posts, and I couldn't bear to leave any of them out.
Spooky Species. Keep an eye out for these little tricksters if you're going to a party or taking the kids in your life out trick-or-treating this weekend.
A Victorian Halloween Party via MimiMatthewsEsq. Doesn't this sound like a good time? I sure would have enjoyed it if I were alive back then.
The Cider That Comes from Beyond the Grave. If you enjoy alcohol and are anywhere close to New York, this sounds as though it would be a fun way to pass the time.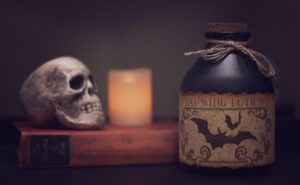 A Stroll Through Highgate Cemetery via ‪DrCarolCooper‬. If you have any interest in all in the art of beautiful, antique headstones, definitely check this link out. I thought it was an incredibly respectful and fascinating post.
We Found Love in a Spooky Place via AmberLeventry. Halloween doesn't always have to be scary. Sometimes it's downright sweet.
Annual Transformations via jdubqca. Ooh, this made me shudder.
Halloween and Martinstag. One of my German friends on Twitter recently informed me that Halloween is a very new holiday over there. He didn't write this article, but I thought it was quite interesting to read about their traditions at this time of the year that have and haven't been influenced by North American customs.
The Ghosts of Queen's Park. Here are a few Toronto ghost stories for you. While I have no idea if any of this is rooted in  historical truths, I love the way communities come up with interesting stories about their pasts.
Halloween Candies: How to Choose the Merely Unhealthy Over the Absolutely Ruinous. 30% of the reason why I'm recommending this link to you is because the title made me grin.
From The Top 3 Japanese Ghosts via ‪matthewmeyerart‬:
As scary as Japan's modern day horror movies are, they are the result of a long tradition of ghost story telling that goes back much further than the invention of films.
From An Honest to God Ghost Story via bjknappwrites‬:
I didn't expect to actually see a ghost.  But the history and the stories were fascinating.  But then, as we stood in the base of the guard tower, I felt something brush my hair off my shoulder.
I really loved this history of Halloween and explanation for how and why it became such a commercialized holiday: