About six months ago, I sat down with spring to discuss what it feels like to be that season of the year. Today, I'll be chatting with autumn, and I hope to eventually get ahold of winter and summer, too!
Lydia: Welcome, autumn. I'm glad you were able to make it.
Autumn: Thank you. Was I on time this year? What has spring been saying about me?
Lydia: You showed up exactly when I expected you would. Spring was curious about your work, but she mentioned that your opposite schedules make it impossible for you to meet.  When, exactly, did you wake up this year?
Autumn: It's hard to say. Summer and I like to trade duties in September, so I had a few short naps while we were in that transitional phase.
Lydia: How is your relationship with Summer in general?
Autumn: Excellent. We both have serious personalities and strong work ethics, so I always enjoy taking over their last few projects of the year. Usually, I need sprinkle some rain and sunlight in that general direction and allow the plants to do the rest.
Lydia: That sounds easy.
Autumn: Well, not so much easy as it is predictable. As long as all of the other seasons have done their part, the process is fairly simple, but it does still require close attention to make sure everything ripens the way it should and everyone is set for the winter. That season can be a harsh one, so I try to make this transition as gentle as possible.
Lydia: I understand. How often do you run into problems with your line of work?
Autumn: Lately, it's been growing more difficult. My department has noticed warmer temperatures and an increase in violent storms over the last century. We do have some tricks up our sleeves for dealing with unexpected weather, but problems in one season can bleed into the next if we're not careful.
Lydia: What sort of problems? Also, I didn't realize each season had their own department! How does that work?
Autumn: Well, too much or too little rain in one season can make it difficult for the plants to grow properly. An unseasonably warm autumn or winter might sound like a nice idea if you live in a cold climate, but those mild temperatures can lead to a higher percentage of insects surviving the winter. Those insects and their descendants may then eat more plants than be replaced that next summer or drain the life out of caribou. It's a real mess.
As far as our departments go, I have several people on staff who keep track of things while we're asleep. Summer has about the same number that I do. Winter and spring mostly work alone as far as I know.  My support staff have their own hibernation cycles, so sometimes I do see new faces when I wake up. But they all help us communicate with the seasons we spend little to no time with, and that's always appreciated.
Lydia: Wow, that is so interesting. I didn't realize that at least some of the seasons were run by multiple folks.
Autumn: Yes, I'm very lucky. I have no idea how winter does it alone!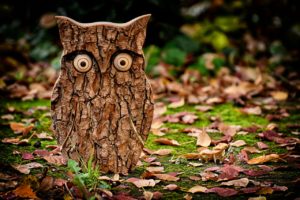 Lydia: Not to change the subject, but I do have a few questions about the holidays that are celebrated while you're in charge. What do you think of them? Do you have any favourites?
Autumn: I hadn't really thought about that! Most of the time, that stuff is managed by the Department of Human Affairs. It varies so much from one culture to the next that my work only occasionally brushes up against that topic. I will say that I appreciate any human festivity that involves going out into nature and enjoying the change of seasons.
Lydia: That's wonderful to hear. Would you like to leave my readers with any parting words?
Autumn: Yes, watch out for winter. He'll be here before you know it, and he might have a few tricks up his sleeves!