Earlier this year, I blogged about my to-watch list of science fiction and fantasy films. Since then, I've been periodically reviewing certain films that I enjoyed and thought you all might like, too. Previous instalments in this series include Into the Forest, Annihilation, Coco, Winchester, and The Little Stranger.
Content warning: death of a dog and death of a child. I will not be mentioning those portions of the story in my post today, and this will otherwise be a spoiler-free review.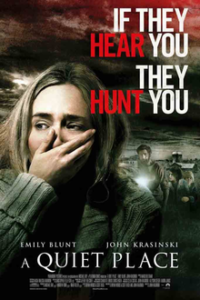 A Quiet Place is an American post-apocalyptic thriller that was released on March 9, 2018.  It's set in a near-future version of Earth in which sightless monsters have taken over the entire planet. Where these creatures came from is unknown, and their skin is so thick that it cannot be pierced by bullets. The only way to being detected by them is by remaining perfectly quiet twenty-four hours a day.
The opening scene of this story happens 89 days after this apocalyptic event began, and it follows the Abbott family as they attempt to survive on their own. One of the children in this family has become ill, so they must travel into town to find medicine for him while avoiding all of the monsters who may be wandering nearby.
Interestingly enough, there are very few characters in this film. The vast majority of humans and large animals have been killed by the monsters, so the Abbott family must rely on their own skills and common sense in order to survive without any hope of finding help elsewhere.
I will be writing the character section in the present form. It's a trick I discovered while working on a previous review, and I do it to avoid giving away any spoilers about the fates of the characters I write about.
*Yes, I know I said I was done watching horror flicks. Let's round that down to 98% done watching this genre since I keep finding (fairly) non-gory horror movies that tickle my fancy.
The Characters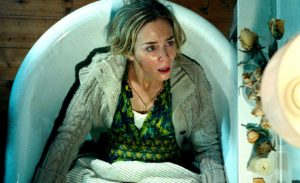 Emily Blunt as Evelyn Abbott
Evelyn is Lee's wife and the mother of their children. Her desire to protect her family is strong, and she expresses it in practical ways like making sure they have food, medical supplies, and clean clothing. She struggles with guilt over decisions she's made in the past and anxiety about what will happen to her loved ones in the future.
John Krasinski as Lee Abbott
Lee is Evelyn's husband and the father of their children. He is determined to find a way to reach out to other survivors and keep everyone safe, and he spends a great deal of time gathering as much information as he can about the monsters and their whereabouts. Sometimes this urge gets in the way of more urgent and practical needs, but he does always have the best of intentions.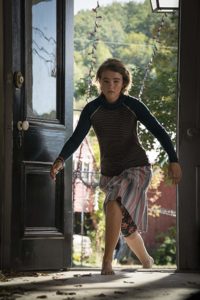 Millicent Simmonds as Regan Abbott
Regan is the oldest Abbot child. She is about twelve years old, quite intelligent, and has begun to question whether she should be listening to everything her parents tell her to do.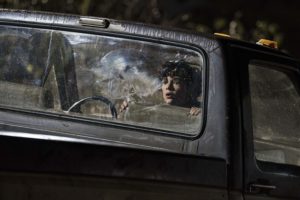 Noah Jupe as Marcus Abbott
Marcus, the Abbott's middle child, is about eight years old. He shares his mother's anxious personality and is reluctant to do anything that he perceives to be dangerous.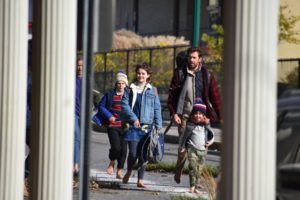 Cade Woodward (bottom right) as Beau Abbott
Beau, the youngest Abbott, is a curious and imaginative four-year-old. As a preschooler, he's too young to understand the danger everyone is in and relies on his parents and older siblings for guidance and protection.
My Review
There are certain portions of the plot and character development that I have to leave out out of this review in order to avoid sharing spoilers with you. Needless to say, there is a lot more going on in the story than you might originally assume. Since I didn't know anything about it when I first began watching it, I was pleasantly surprised by these plot twists. I hope you will be, too!
One of the things I found most unusual about this tale was how little dialogue it had. The monsters had ultra-sensitive hearing, so even a quiet conversation would be noisy enough to draw their deadly attention. I was impressed by all of the non-verbal cues the filmmakers included in the script in order to keep the audience clued in to what was happening to the Abbott family. This is definitely something you'll want to pay close attention to while watching. Multi-tasking is not a good idea here! So much information is shared with the audience through the characters' body language, events happening in the background, or the strategic placement of certain items in specific scenes.
While there were a small handful of scenes that briefly involved the sight of blood or serious injuries, this was not a gory film. Nearly all of the horror elements involved the characters' reactions to the unknown and how they'd had to adapt to a world where speaking or any other types of noise was enough to ensure your quick and certain death.
The relationships between all five Abbotts were interesting. There were times when two or more of them had disagreements and had to convey those feelings primarily through any means other than speaking. This lead to some scenes that I thought were particularly well done, especially when it came to Regan's desire to have more independence now that she was getting older. How do you parent a smart, willful kid who thinks she has everything figured out while living in an apocalypse? It definitely isn't easy!
I would have liked to see less foreshadowing, especially since not all of the foreshadowing actually turned out to be accurate. It was a little jarring to me as a viewer to get so many hints about how things might end only to find out that they were misleading.  With that being said, this is still something I'd recommend to anyone who likes horror, survival flicks, or science fiction films about scary creatures.
This premise of this story was solid. It would have been just fine with some foreshadowing and more time spent building up the tension as the Abbott family attempted to build a new life for themselves.
By far my favourite part of this film was the ending. There were so many false starts along the way that I didn't make any assumptions about how everything would turn out until the credits rolled. I loved the fact that the filmmakers kept us all guessing until the end.
A Quiet Place is available on Netflix.