Last year I blogged about my to-watch list of science fiction and fantasy films. Since then, I've been periodically reviewing science fiction, fantasy, and other speculative fiction films. Previous instalments in this series include Into the Forest, Annihilation, Coco, Winchester, The Little Stranger, Astraea, The House with a Clock in Its Walls, A Dog's Purpose, and Jurassic World: Fallen Kingdom.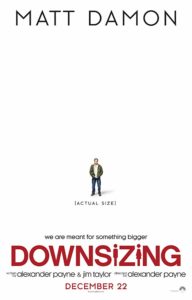 Content warning: needles, substance abuse, and dental work. I will make a brief reference to the substance abuse but will otherwise steer clear of these topics in my review.
Downsizing is a 2017 science fiction film about a suburban couple who decided to undergo a new medical procedure in order to shrink their bodies to about five inches tall each in order to help the environment and live a more luxurious lifestyle on whatever savings they'd accumulated before being downsized.
Global Solutions was the research institute they turn to in order to make this procedure possible. It was founded in order to use science to make life better for humanity, and the director of this organization was certain he'd found the perfect way to solve human overpopulation and climate change simultaneously.
As always, I will be discussing every character in the past  tense in order to avoid spoilers about what their fates may be. Some of the other films I've reviewed here have included character deaths. I stick to this rule in all of my reviews so that I'll never inadvertently give away any spoilers other than the potentially triggering material I share in my content warnings.
Characters
Paul worked as an occupational therapist for a meat packing plant when this film began. He was committed to helping everyone he met feel as mobile and healthy as possible, although he also worried about falling behind financially speaking when compared to other households.
Audrey was Paul's wife. She was a little nervous about being downsized and moving to Leisureland Estates, a community built specifically for five inch tall humans.
Yes, there are reasons why the descriptions of most of the female characters in this post are so sparse. I will discuss that in detail in my review below.
Dušan was an outgoing, friendly, and exuberant upstairs neighbour in Leisureland Estates who fully embraced his life as a small person. That is, he was well-known for his  late-night loud parties, substance abuse, and loud music.
Ngoc Lan was one of the workers who cleaned the houses of the wealthy people in Leisureland. She had an assertive and sometimes blunt personality that was well explained by her backstory.
Dr. Asbjørnsen worked for Global Solutions. He was the first scientist to discover how to safely and effectively shrink humans to a fraction of their former size. His wife, Anne-Helene, joined him and 34 other volunteers to be the first humans to undergo this process long before Paul and Audrey signed up for it.
Anne-Helene was Dr. Asbjørnsen's wife.
Joris was Dušan's companion. Like Dušan, he'd spent many years partying hard and sucking every last moment of joy out of life. There was nothing more important to him than having a good time with likeminded people.
Dr. Jacobsen was the director of Global Solutions. He excelled at putting on presentations for investors and the media in order to bring in more money and hopefully attract new people to the downsizing movement.
Jeff was the Senior Product Specialist at Leisureland Estates.  He and his wife, Laura, did live demonstrations about their lifestyle to convince big people to sign up for the downsizing procedure.
My Review
It took a while to gather my thoughts about this film. There were parts of it I loved and parts of it that made me want to stop watching it altogether.
The trailer for it will make it sound like a comedy. While there were some humorous moments, this was a pretty serious story in general. Climate change is no laughing matter, and the creators hammered that point home clearly. This was actually something I really liked about the plot. It didn't hesitate to shy away from the serious repercussions humans are going to face as the polar ice caps melt and our weather becomes even more unpredictable.
Shrinking humans to a fraction of their original size was a creative response to this crisis. A human who is less than six inches tall is obviously to need much less food, fuel, clothing, and other supplies to stay alive than one that is six feet tall. While the science behind shrinking someone to such a small size was never really explained, I enjoyed seeing as much of that process as the characters were aware of.
There were a few details about the downsizing procedure and how it worked that never occurred to me. It's effect on the environment – and the environment's potential effect on humans that are essentially the size of hamsters – was another part of the storytelling that I thought was really well done. The repercussions of both of those things spread further than I ever would have imagined.
I also liked the fact that the plot spent so much time exploring why downsizing will be the only way humans can hope to survive in the longterm. The scientists had excellent reasons for believing that big humans will die out as a result of climate change. While I was originally expecting something with a faster pace, it was nice to dig so deeply into all of the ways the planet will become uninhabitable for so many different species in coming generations.
What bothered me about this film was the way it treated the female characters. Despite having backstories that were just as, and in some cases far more, interesting than the male characters, the vast majority of them were given much less screen time than their male costars. I still don't know what Audrey, Anne-Helene, or Laura's professions, interests, hobbies were. Everything the audience learned about them was somehow connected to the men who married them.
Ngoc Lan's personality and backstory were developed better, but even she was framed as a love interest despite everything else that was happening in her life that would have made for great storytelling. She had a lot of responsibilities to juggle for reasons I can't disclose here without wandering into spoiler territory.
It is very odd to take someone whose life is filled with serious problems that have no easy solutions only to reduce all of that beautiful complexity to wondering whether she's going to fall in love when and with whom the audience wants her to.
If this had happened to one female character who had been longing for a life partner, it wouldn't have been an issue. The fact that the writers did it with the only woman who had an identity outside of being someone's wife really rubbed me the wrong way, especially since she didn't show any interest in romance when we first met her. Her life was so full already that I shuddered at the thought of her having to fall in love in order to live happily ever after.
There is nothing wrong with showing characters falling in love. What bothers me is when films shoehorn characters into that subplot or only show the parts of their lives that have to do with who they're in a relationship with when none of their male counterparts were treated the same way.
To contrast this complaint, Paul had great character development during the course of this film. He started off as someone who had good intentions but who could be a little oblivious to other people's perspectives at times. Seeing how he changed as a result of his decision to be downsized was a thrill. He took his experiences to heart and genuinely grew and changed as a result of the things he learned.
While the secondary male characters didn't show as much development due to the smaller amounts of time they had on stage, they did have some of it. And they were also shown having interests, hobbies, and dreams that had nothing to do with whether or not they were married or had fallen in love.
If only the women in Leisureland Estates had been given the same opportunity.
Downsizing is available on Netflix and Apple TV.