Last year I blogged about my to-watch list of science fiction and fantasy films. Since then, I've been periodically reviewing certain speculative fiction films that I enjoyed and thought you all might like, too. Previous instalments in this series include Into the Forest, Annihilation, Coco, Winchester, The Little Stranger, Astraea, and The House with a Clock in Its Walls.
Content Warning: animal mistreatment and animal deaths. I will only briefly mention those aspects of the plot, and this will otherwise be a spoiler-free review. 
A Dog's Purpose is a 2017 modern fantasy film about a dog named Bailey who was reincarnated mutiple times during his quest to find his original owner. It is based on a book by the same name.
The fantasy elements of this tale are light and contemporary. Think something closer to the magical realism genre than Lord of the Rings.
The Characters
There are quite a few characters in this film I can't discuss without giving away spoilers because of the episodic nature of Bailey's lifetimes. Every time he was reborn, he met a new cast of characters who taught him important lessons about what it means to be a good dog and to live a worthwhile life.
For the record, I discuss characters in the past tense in all of my film reviews in order to avoid giving my audience any spoilers for films that don't involve reincarnation. Don't read anything into it other than that if you happen to check out previous reviews at the top of this post.
Josh Gad as the voice of Bailey
Bailey was the main character of this story. He was an optimistic and friendly dog who looked for the good in everyone he met. With that being said, his personality changed a little bit from one lifetime to the next. There was always something likeable about him, but to my surprise he didn't have the same quirks, habits, or preferences in every lifetime.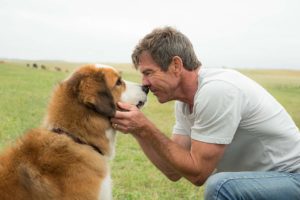 Dennis Quaid (right) as Ethan
Ethan was Bailey's first owner and the first person to treat this dog with all of the love and the kindness he deserved. They originally met when Ethan was a child, and they spent many happy years together at the beginning of their friendship. The emotional bond between them was something that even death itself couldn't break.
My Review
Let's talk about the content warning I added for this review before discussing anything else about it. As I mentioned earlier, this tale follows one dog through several different lifetimes. Some of the lives he experienced were not happy ones, and there were scenes that showed him being mistreated by the humans around him. Since this was a children's movie, none of those scenes were long or particularly graphic.
The difficult chapters of this dog's existence were sugar-coated at times for the sake of the audience. I'd be happy to go into more detail about this part of the plot privately with anyone with needs more information before deciding to watch it, but I didn't have trouble with it even though I'm generally sensitive to this sort of content. It was handled gracefully.
One of the most interesting things about A Dog's Purpose for me was seeing all of the changes to Bailey's personality from one life to the next. Despite having the same soul, he evolved every time he was reincarnated.
To give one example, he was an active, energetic dog in some lifetimes and perfectly content to sit on the couch with his owners and watch television in others. I'll leave it up to all of you to discover the reasons why he didn't behave exactly the same way in every incarnation he experienced, but I did enjoy what the screenwriters were doing with these shifts in his temperament. They were all explained well.
There were times when I found this film a little too sentimental. This may have been due to the age group it was written for, but I would have preferred to see a more pragmatic approach to his journey in certain scenes. Bailey's goal was a lofty one for a dog, and there were instances when it would have been nice to for him to run up against some more obstacles while he tried to find Ethan again.
With that being said, I was intrigued by the thought of a dog trying to figure out the meaning of life for his species. It wasn't something I'd expect a canine narrator to think about, so it was interesting to see how he came up with his theories about why he kept being reborn and what he was expected to do with all of his lives.
This was a mostly lighthearted and uplifting movie that I'd recommend to kids and adults alike. Despite the occasionally sappy moments, I did enjoy seeing what Bailey's various lives were like and how he made the best of each one of them.
A Dog's Purpose is available on Netflix and iTunes.