You may have noticed that I turned comments back on for this site a few months ago. When I originally began blogging at lydiaschoch.com a year and a half ago, I didn't plan to host comments here for the following reasons:
Most of the comments I received were spam.
I'd seen how quickly the comment sections on other sites could devolve into flame wars.
The number of genuine comments I received on any given post were low.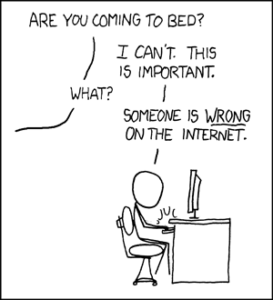 Spamming and unsolicited advertisements irritate me in general. There are so many other useful and interesting things person could do in this world that I can't understand why anyone would take the time to be a spammer or program a bot to clutter up other people's spaces with links to dubious websites. It's like the online version of littering or stuffing your neighbour's home full of advertisements that they don't need and never asked for.
Avoiding flame wars is fairly self-explanatory. I've seen people get into complicated, drawn-out arguments over topics that should have been completely innocuous like what food they ate or whether they liked a certain TV show. This has happened on social media sites, message boards, news sites, personal blogs, and anywhere else that allows comments. Why does this happen? I wish I knew, but I keep waiting for the day when two people who seem to enjoy arguing about everything will look at the same sky and then debate over which shade of blue it is.
Finally, I wasn't receiving a lot of comments in general on most of my posts. At the time, I assumed that that was because people as a whole were losing interest in participating in comment sections. I thought I was ending something that was just about to fade out on its own anyway.
I was wrong.
What Changed My Mind
A couple of people asked me privately why I'd stopped allowing comments on this site shortly after it launched. I briefly explained my reasons to them, and they didn't bring it up again.
About a year later, I began participating in the Saturday Seven meme. Like Top Ten Tuesday and other weekly bookish memes, leaving comments on other sites and responding to them on your own site was a huge part of it. While you can still technically write a post for those events each week without accepting comments, you'll miss out on half of the fun of them if you do it that way.
Getting to know the other Saturday Seven bloggers nudged me firmly in the direction of opening up comments on this site again. They were all so friendly and interested in reading what everyone wrote every week. I probably wouldn't have changed my mind on this issue if not for their friendship, gentle encouragement, and complete disinterest in ever arguing over what colour the sky is! LOL.
Figuring out a better way to deal with spam comments was also helpful. I adjusted the settings on my blog so that comments can only be left up to 10 days after a post is published, and all comments must be approved by me before they appear anywhere on my site. This is done only to keep hundreds of spam comments from cluttering up my posts each week.
Avoiding that avalanche of spam – some of which looks almost exactly like a genuine comment because of how clever the spam bots are these days – is my sole reason for screening responses so carefully here.
Should You Allow Comments On Your Blog?
This is a question that is best answered by every blogger him or herself. I don't blog about controversial topics, and my site hasn't grown large enough to attract people who like to argue about everything on the Internet yet.
People who run better-known blogs or who write about hotly-debated topics are almost certainly going to have very different experiences in their comment sections.
There is also the matter of filtering out spambots. I have the time to delete their comments while saving the ones from real people who don't want to share the secret of how to make $517 dollars today or encourage certain parts of your body to become bigger with one easy step.
In general, I think that allowing comments is a friendly thing to do, but I completely understand why some blog owners choose to turn the comments off on their sites.
If you're a blogger, why do (or don't) you allow comments on your site?