Disclaimer: I am not a doctor, and this post is in no way intended to provide medical advice. Please seek the advice of a qualified medical professional before beginning this or any other type of workout routine. 
I'm reviewing this workout simply because I enjoyed it and think some of you might, too. I'm not being compensated for this post in any way and have no affiliation with Bipasha Basu or Shemaroo Good Health 24/7. As always, this is an advertisement-free site. 
A surprising number of people find my site every week by searching for Bipasha Basu. If you're one of them, I hope you enjoy this workout as much as you have her previous ones. If you're new to her videos, you're in for a real treat today!
About the 30 Minute Fat Burning Cardio Workout
This is a 30 minute workout that includes approximately five minutes each of warmup and cool down exercises. I liked the fact that those things were accounted for. As I've said here in the past, I find it easy to skip out on cool downs especially when videos don't include them because of how eager I am to flop over and relax after exercising.
One of the biggest reasons why I decided to do this particular workout was because Bipasha Basu was in it! She has an aerobic dance workout I'll link to at the bottom of today's post that I love, so I was curious to see what else she's been up to lately.
There is no special equipment required for this routine. I appreciated having a yoga mat to jump around on, but this extra layer of padding on the ground is optional.
The cardiovascular exercises in this video included jumping jacks, pushups, mountain climbers, squats, kicks, squats, bunny hops, and marching in place between the most strenuous moves. Bipasha Basu's 30 Minute Fat Burning Cardio Workout 
My Review
Let's begin this review with a lighthearted comment about bunny hops. This wasn't something I'd ever heard of before, but anyone who knows how much I adore rabbits can probably guess how much I enjoyed that particular part of the workout. It was the last thing I was expecting to find in such a serious video, but it sure was a cute thing to try.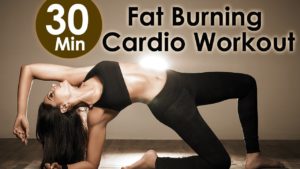 Most of the cardiovascular exercise I do is in the form of walking. While it's brisk, I was still more challenged by this workout than I was expecting to be. There's a difference between taking a walk and doing jumping jacks, and I think I need to be doing more of the latter to build up my endurance!
This definitely isn't something I'd recommend to a beginner. I consider myself to be a reasonably fit person, and I wasn't able to go through this entire video without pausing when I was testing it out for this post. If you've been exercising regularly for a while, this may be right up your alley.
I never know how to properly gauge the intensity of a workout, but I would recommend it to people who have been exercising regularly for a while and are interested in trying something new. Bipasha's Basu's aerobic dance workout I previously reviewed on my site was an easier, lower-impact workout that included all sorts of positive messages about loving yourself and doing your best.
This one included a minimum amount of narration and more energetic moves. That minimalistic approach is something I appreciate. I suspect I'll continue to be challenged by it for quite a while.
With that being said, I did notice a few exercises that carried over from her aerobic dance workout. It was amusing to be surprised by them just when I thought that Ms. Basu was expecting her audience to learn an entirely new set of moves.
The only non-complimentary thing I'll say about this workout has to do with the background music. I'm not a fan of exercising to music unless I'm dancing, so I did find myself wishing for a version of this workout that included Ms. Basu's instructions but no other noises. This is a minor criticism of something I otherwise found quite useful and challenging, though, and I am glad that the background music didn't include lyrics.
What I like the most about Bipasha Basu's workouts is the repetition built into them. Every move was repeated once before she had her audience go onto a different set of exercises. While this is a common thing to find in all sorts of fitness routines, I've only grown to appreciate it more over time. It's nice to be able to practice certain moves more than once, especially if they'd be something I might skip if I were making up my own list of exercises to get through on cardio days.
Previous Reviews of Free Youtube Workout Routines:
Bipasha Basu's 30-Minute Aerobic Dance Workout
Fitness Blender's Brutal Butt & Thigh Workout
Fitness Blender's Ab Blasting Interval Workout