Hosted by Long and Short Reviews.
Click here to read everyone else's replies to this week's question and here to see the full list of topics for the year.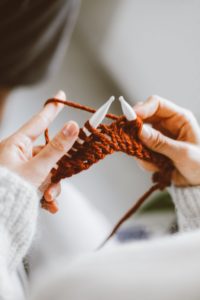 The original topic for this week was "your favourite crafty thing to do."
I am not a crafty person at all, so I'm tweaking it a little bit to be "a crafty goal for 2023."
Many years ago, I tried to teach myself how to knit by buying a book on the topic. I was never successful at it. Spatial tasks like these are not my strong suit, so I think I need to take a different approach this time around.
One of my goals for 2023 is to find some sort of knitting class, or very detailed YouTube series, or maybe make a cool new knitting friend who will patiently walk me through all of the steps of learning how to knit.
I think an in-person experience would be easier (if Covid allows for it) while I'm trying to figure out where the needles go and how to do everything properly.
But I am very open to other options, so feel free to share them if you know of any.
My goal for learning how to knit is simple and practical. I have a great-aunt who knits the coolest little dish cloths that are fantastic for all sorts of cleaning and other tasks around the house. (The Internet is not her strong suit, or I'd be asking her this question!)  It would be neat to continue that family tradition and knit my own dish cloths.
I look forward to resuming WWBC with everyone in January! Merry Christmas and Happy Holidays to you all.