I'm still basking in the afterglow of the amazing Alaskan cruise I went on with my spouse and extended family earlier this month.
This was the first time any of us had been to Alaska before, so our vacation was filled with all sorts of firsts.  We spent one week sailing by glaciers, mountains, virgin forests, totem poles, and other beautiful sights.
Other than wishing I'd taken more photos during it, there isn't a single thing I would have changed about that trip. It was wonderful to spend time with my parents, siblings, sister-in-law, and nephews again. We hadn't all been together in the same place for three long years!
When we weren't soaking in the hot tub, swimming, exploring the various ports of call or looking for whales, seals, and other wildlife bobbing past our ship, we ate meals together, played Dutch Blitz, attended various programs on the ship: nature and history lectures, cooking shows, poker tournaments, and more.
When I ordered food, I tried to strike a balance between eating a well-rounded diet and enjoying treats. There were some amazing sorbets on this cruise, and I tried to taste as many of them as I could. It's not every day that a non-vegan restaurant has dairy-free desserts!
The one thing I didn't do on this vacation was stick to my normal exercise routine. This is rare. Normally, the gym and running track are among the first places I explore when boarding a cruise ship. I like sticking to my fitness routine as much as possible when on vacation.
Why did I break that pattern this time?
I'd caught a cold at the end of June and was still coughing when this trip began.
I wanted to keep my daily schedule flexible.
Get-togethers with my side of the family happen rarely enough that I didn't want to rush off from a leisurely breakfast or skip a last-time invitation so I could exercise. The fact that I was still feeling sick at first only gave me another reason to take it easy. With that being said, I wasn't completely sedentary that week.
Taking the Stairs
As much as possible, I took the stairs instead of hopping on the elevator when we were on the ship that week. There were no specific goals here. If I was short on time or coughing a lot one day, I took the elevator without a second thought.
With that being said, walking up or down a few flights at a time can add up over the course of a day if you do it when it's possible.
I take the stairs a few times a day here in Toronto. When I'm on a cruise, I can do dozens per day. It effectively doubles or triples the average number of staircases I walk on for that month, and most cruises only last about a week!
(No, this wasn't the staircase that they had on board, although they both were wrap-around designs.  I forgot to photograph the real one while we were there, so I picked an eye-catching stock image photo of another staircase).
Walking Everywhere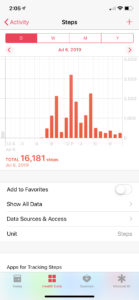 While my cough limited how much brisk walking or other forms of exercise I felt up to doing, it didn't stop me from walking at a slower pace.
When I'm home and feeling well, I try to log about 12,000 steps per day.  I accidentally met this goal on about half of the days of our trip.
Once I even made it to 16,000 steps! While most of that movement involved strolling instead of power walking, I was still pretty happy with how much gentle activity I was able to include in everything else that was going on.
It didn't get my heart rate pumping as high as I'd normally try to get it, but that wasn't a goal I was concerned about as I healed and spent time with the family.
A week off won't mean much in the long run. I'm back to my normal weightlifting and cardio routines now and very glad I took the time to fully recover and make memories with my loved ones.
What do your fitness routines look like when you're travelling? Do you try to stick to the same schedule? Do you take breaks from them?