Hosted by Long and Short Reviews.
Click here to read everyone else's replies to this week's question and here to see the full list of topics for the year.
This is a trip I've been dreaming about ever since I first read the Anne of Green Gables series by L.M. Montgomery.  Maybe someday a version of it will actually happen!
My perfect weekend getaway would happen on Prince Edward Island.
My spouse* and I would fly there on a Friday and fly home on a Monday so we'd have two full days of adventure on the island.
Our first stop would be to visit the birthplace of L.M. Montgomery. It's a lovely farmhouse that's been turned into a museum. Historical stuff like that appeals to me!
I'd visit some of the Anne of Green Gables tourist destinations nearby, too, like the little museum dedicated to this series and the gift shop that has all sorts of Anne memorabilia.
The rest of the weekend would be spend exploring other things the island has to offer. I'd want to visit their red beaches for sure, but I'd play the rest by ear based on what the locals recommended and what the weather was like that weekend.
It's been my experience that the best restaurants, parks, shops, and other adventures in a new area are often hidden gems. I'd rather take advice from someone who lives there and has insider information than follow the advice of a random Internet article that may or may not actually be knowledgeable on the topic.
My spouse* and I might:
Take a carriage ride
Explore a gorgeous, half-forgotten graveyard in a small town
Eat at a restaurant that looks fairly ordinary from the outside but quietly serves the best food on the whole island
Join a last-minute ghost or historical tour
Stumble upon a cool local festival or event we knew nothing about previously
Find a marvellous sweets or ice cream shop
Make a new friend with an extroverted local or fellow tourist
Build sand castles on the beach
Hike somewhere achingly wonderful, or
Discover unique architecture in a beautiful historical church or other building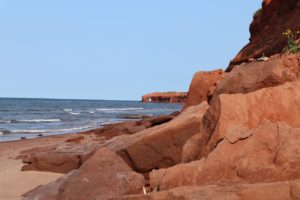 The possibilities are endless, and I'd relish any of them.
I'll end this post with one more Prince Edward Island stock photo I found.
Seriously, wouldn't it be amazing to see such sights in person?
*If they didn't want to go, I'd take a friend instead. I do not believe in compulsory travel. Hehe.