Each month I share photos from one of the parks in Toronto to show my readers what our landscape looks like throughout the year. This is the eleventh instalment of this series.
Click on February, March, April, May, June, July, August, September, October, and November to read the earlier posts.
Other than the amount of snow on the ground, the scenery in December remains almost exactly the same from the beginning to the end of the month. You will probably notice a few differences between the photos in this post and the ones to come in January, but it won't be as dramatic as it is in the autumn and spring.
It was a balmy 8 Celsius (46 Fahrenheit) and somewhat cloudy when I visited. Typical days during this month generally don't rise above 2 Celsius (35 Fahrenheit). Snow is common now, but most of it generally melts before the next batch arrives.  This is not the case in January, so my final instalment of this series might need to get a little creative depending on how slippery the sidewalks are then!
Let's begin our virtual visit.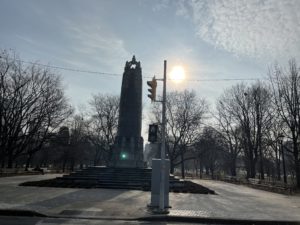 The first thing I noticed was how washed out everything looked there. It was the sort of day that was dark and cloudy one moment and weakly sunny at the next. I thought this photo captured that in an interesting manner.
A closer and clearer look at this entrance to the park. The evergreen bushes in front of the monument have gone dormant now.
Mud has returned to the running trail.  I did see two brave souls continuing to jog there and sometimes running onto the sidewalk or to dryer bits of grass when they encountered the biggest puddles. (There would generally be dozens of joggers and walkers politely using the same space in the autumn and spring. I expect to see none at all next month).
The sidewalks are now covered in salt alongside all of the leaves that have decorated them these past few months. They are almost always wet now, so the salt helps to keep them walkable for most pedestrians before the big storms of January make this a much slipperier place for a stroll.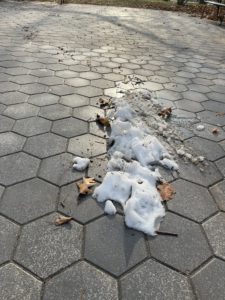 However, anyone who has mobility issues should be cautious here in real life. Even relatively warm and dry days now include patches of snow and half-melted ice scattered here and there. The salt can only do so much, and it will only grow slicker over the next couple of months.
The canopy of rustling leaves is 90% gone now and the park is quiet. Last summer we couldn't see the sky from this perspective. The clouds moved so fast that these photos also might look like they were taken on separate days instead of only a few moments apart.
This sapling was one of a handful of trees that still held onto most of its leaves. A few of them generally retain at least some of their leaves until the end of winter.
With that being said, this is what the majority of trees look like now. Yes, that includes the bird's nest. Not all of them have old nests, but many of them do.
Some of the largest ones even have two or more nests visible now. No wonder I heard birds chirping everywhere last spring and summer! I think it's marvellous to see where the birds decided to make their homes eight or nine months ago.
Earlier this year I talked about how wet, spongy, and muddy the ground was as it thawed. You saw a photo of this on the running trail, but it's something found throughout the park. I couldn't walk on most of it without caking my shoes in mud.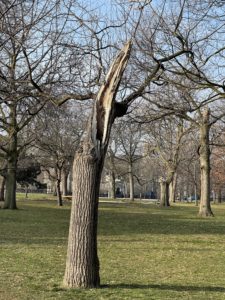 Luckily, our tree friend that lost half of its branches was in a drier section of the park. It seems to have survived our first few snowstorms just fine.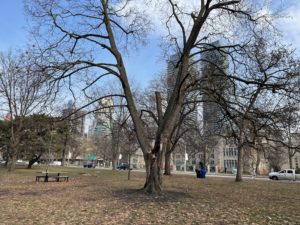 The zoom lens on my camera helped me get this shot of our tree friend that lost a third of its branches. It still has a wet trunk and drooping branches. I've avoided walking underneath them for months now for safety reasons. Soon we will see how they will fare under the heavy ice and snow that coats everything in January.
Do you want to know two of the best things about visiting the park in December? I'll give you a few hints.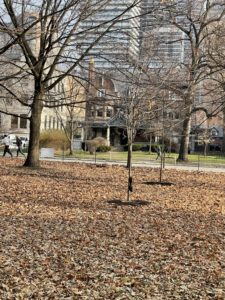 This one might be a little tricky to see. Look at the sapling in the centre of the photo if you need help. Yes, that's a squirrel! It was climbing so vigorously the whole tree was shaking a bit.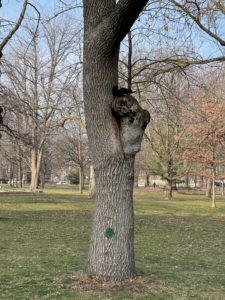 There's something about this time of year that makes squirrels slightly easier to photograph. This little black squirrel is sitting on top of a knot on the right hand side of this tree. I'd just seen it climb out of a hole in the knot. That must be where he or she lives.
My other favourite part of visiting the park now is something I tend to overlook the rest of the year.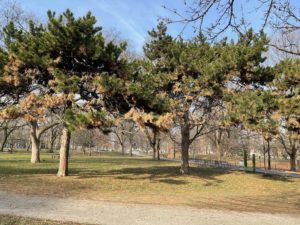 Evergreen trees are one of the few splashes of colour between now and April. I sure appreciate their green addition to the landscape when everything else is drab and various shades of brown, black, and grey for months on end.
Here's another shot of the more typical deciduous areas of the park for reference.
Finally, this is what the famous walkway looks like after nearly all of the leaves have fallen.
The plan is to blog about this park again in the icy, snowy depths of January so that every month will have been accounted for. Then I hope to do one final post in the spring to see how our two damaged tree friends fared over the winter.
Take care until next month, readers!