Saturday Seven is hosted by Long and Short Reviews.
Poetry was one of my favourite things in high school. I took a long break from it once I became an adult, but I've recently felt the urge to read it again.
I thought I'd dive back into this genre by revisiting some of the poets I enjoyed the most. Today I'll share some short poems from Emily Dickinson that always make me smile or think. I once owned a very large book that contained every poem she'd ever written that still exists. (Sadly, some of her work was destroyed by her sister-in-law and other relatives after her death. We still don't know for sure why they did that, but it was a terrible loss for her fans).
Yes, there's an excellent reason why none of the below poems have titles. Ms. Dickinson actually didn't bother naming the majority of her poems! They were given numbers instead or even written on scraps of paper and bundled together tidily.
My future Saturday Seven posts will shine a spotlight on other poets I enjoy. I won't talk about poetry every week for this meme, but I'm tentatively hoping to do it about once a month in the future.
Poem #1:
If I can stop one heart from breaking,
I shall not live in vain;
If I can ease one life the aching,
Or cool one pain,
Or help one fainting robin
Unto his nest again,
I shall not live in vain.
Poem #2:
I HAD no time to hate, because
The grave would hinder me,
And life was not so ample I
Could finish enmity.
Nor had I time to love; but since
Some industry must be,
The little toil of love, I thought,
Was large enough for me.
Poem #3:
LOOK back on time with kindly eyes,
He doubtless did his best;
How softly sinks his trembling sun
In human nature's west!
Poem #4:
The bustle in a house
The morning after death
Is solemnest of industries
Enacted upon earth,–
The sweeping up the heart,
And putting love away
We shall not want to use again
Until eternity.
Poem #5:
I'm nobody! Who are you?
Are you nobody, too?
Then there's a pair of us — don't tell!
They'd banish — you know!
How dreary to be somebody!
How public like a frog
To tell one's name the livelong day
To an admiring bog!
Poem #6:
Surgeons must be very careful
When they take the knife!
Underneath their fine incisions
Stirs the Culprit—Life!
Poem #7:
Two Butterflies went out at Noon—
And waltzed above a Farm—
Then stepped straight through the Firmament
And rested on a Beam—
And then—together bore away
Upon a shining Sea—
Though never yet, in any Port—
Their coming mentioned—be—
If spoken by the distant Bird—
If met in Ether Sea
By Frigate, or by Merchantman—
No notice—was—to me—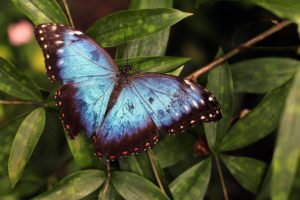 Are any of you fans of poetry? If so, which poems and poets do you like?