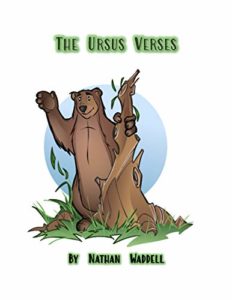 Title: The Ursus Versus
Author: Nathan Waddell
Publisher: Self-Published
Publication Date: October 29, 2020
Genres: Science Fiction, Fantasy, Young Adult
Length: 66 pages
Source: I purchased it.
Rating: 5 Stars
Blurb:
Do you like bears and black holes and squid monsters and dragons and cowboy dragon slayers and riding your bike all around town looking for something to do? Because that's what I like and this is my chapbook which captures that spirit of fun and terror and the comfort of a good fun book.
This is the first in a series of chapbooks containing poetry and flash fiction and short stories with themes ranging from those mentioned above to deeper explorations of humanity. But honestly the themes mentioned already are all about that too.
Review:
Now is the perfect time for lighthearted science fiction.
Ordinarily, I'll pick out a few short stories, poems, or essays from collections like these and share my thoughts about them. There were so many funny themes covered here that I thought it was best to allow other readers to discover them for yourselves without spoilers, especially since the later entries often referenced earlier ones.  All you need to know is that this is heavily based on science, science fiction, fantasy, and mythology. Start at the beginning, relax, and enjoy.
This is the sort of young adult science fiction that easily crosses over into adult audiences. The humour in it is tongue-in-cheek and does rely on a certain amount of understanding of the types of scientific concepts generally taught in high school, but it explains most of them well enough to appeal to preteens who haven't taken Biology yet or older adults who might have last thought about the Paleozoic era half a century ago. In other words, don't spend too much time thinking about whether you're "Young Adult" enough for this collection. If you're interested, there will almost certainly be something here that appeals to you.
Some of my favourite sections were the ones that relied on puns and jokes. Yes, there were the usual quips about what bears do in the woods, but that was the only the beginning of the many reasons to laugh while reading this collection. Honestly, what could be better than finding the humour in speculative fiction no matter which branch of it the narrator happens to be visiting at the moment? I sure can't think of many things.
Be sure to read the author's explanations of why he wrote select pieces of this collection. The explanations are all located at the very end, and it was really interesting to read their backstories.
I'm looking forward to reading the rest of this series. Everything published here was first written about twenty years ago, and Mr. Waddell's writing style has evolved quite a bit since then. If you want to follow along as he shares that journey, The Ursus Versus the perfect place to start.