Hosted by Long and Short Reviews.
Click here to read everyone else's replies to this week's question and here to see the full list of topics for the year.
Every few months, the Wednesday Weekly Blogging Challenge poses a question that makes me wish I could peek into all of your drafts folders as I'm writing my response to it. Will you all choose people you know or famous people?
I decided to nominate one famous person and a couple of people I know in real life.
Foster Parents
Several years ago, my brother and sister-in-law signed up to be foster parents. I won't go into details about the children they looked after for confidentiality reasons, but I'm so proud of my relatives for the excellent care they provided for the little people who needed a safe place to call home for a while. Foster children deserve families who truly love and cherish them, and that's exactly what my relatives did for their kids whether those kids stayed a few days, a few months, or forever.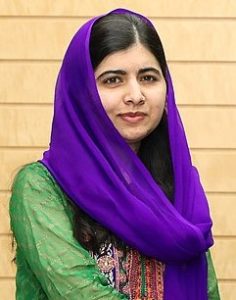 Malala Yousafzai
I'm sure you've all heard Malala's story already, but I'll quickly summarize it just in case.
In 2012, she was shot in the head by a member of the Taliban in retaliation for writing blog posts about her experiences living under their rule in Pakistan and advocating for the education of women and girls.
Malala miraculously recovered fully from that injury and has spent the last nine years advocating for everyone's right to an education.
I also admire her commitment to non-violence and forgiveness. While she has never shied away from speaking the truth and attempting to make the world a better place, her empathy for her attackers is astounding.