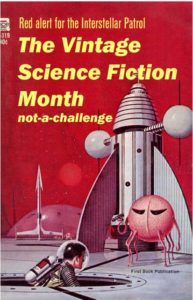 Vintage Science Fiction month takes place every January, and has a few guidelines:
 – read, watch, listen to, or experience something science fiction / fantasy that was created in 1979 or earlier
 – talk about it online sometime in January
 – have fun
If any of my readers are also interested in participating this month, let Little Red Reviewer know about your posts if you'd like them to be included in her official roundups. 
Title: The Canterville Ghost
Author: Oscar Wilde
Publisher: The Court and Society Review
Publication Date: February 23, 1887 and March 2, 1887
Genres: Science Fiction, Fantasy, Paranormal, Historical
Length: 54 pages
Source: This review was inspired by Little Red Reviewer's post about The Canterville Ghost last year. Go to Wilde Online to read this story for free for yourself.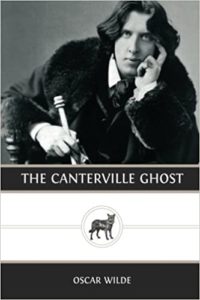 Rating: 4 Stars
Blurb:
Horace B. Otis, a wealthy American, purchases Canterville Chase, an ancient English manor-house, despite warnings that the house is known to be haunted. He moves into the house accompanied by his wife, his eldest son Washington, his daughter Virginia, and his two younger twin sons. Immediately upon arrival, the family is confronted by a bloodstain in a sitting room. The housekeeper, Mrs. Umney, explains that the stain has been there since 1575 and is the result of Lady Eleanore de Canterville having been brutally murdered by her husband, Sir Simon de Canterville.
The Otis family takes a pragmatic perspective and scrubs the stain away; they repeat the process when the stain continues to reappear every morning. The stubborn reappearance of the stain, as well as other strange occurrences around the house, leads them to consider that the rumor of the ghost may not be totally unfounded.
Review:
Content warning: Murder. I will not be discussing these things in my review.
What happens when the ghost haunting your new home might not be as scary as he thinks he is?
I adored the way Mr. Wilde played around with the tropes of the paranormal and fantasy genres. Most character are at least mildly alarmed by the presence of a supernatural being in their home, so I was delighted to meet an entire family who genuinely didn't care who or what roamed the halls as night so long as they didn't wake anyone up or make a mess. Honestly, they actually seemed to enjoy playing pranks on their new roommate of sorts whenever he irritated them too much with his various haunting activities. This is so rare for this genre that I can't remember the last time I read anything like this story.
One of the things I was never quite able to do with this tale was categorize it into one specific genre. It went into far more investigative detail than I'd normally expect to find in the fantasy genre, but it was also more metaphysical than I'd expect to find in the science fiction genre. In my experience, classics science fiction often does this, especially as you read further back into time when this genre was closer to its infancy. I'm the sort of reader who usually prefers harder science fiction, but this was well told once I accepted the fact that the characters weren't going to perform the same sorts of scientific experiments I would if I were in their shoes. If the writing style had been a little firmer about what sort of speculative fiction this was actually supposed to be, I would have gone with a five-star rating.
The ending threw me for a loop. Normally, conflict between ghosts and humans escalates over time in tales like these. Sometimes it can even do so violently depending on what the author has in mind, so I was thrilled to see how everything was resolved for the Otis family and their resident ghost. It made perfect sense for the plot, but it also gave me a warm and fuzzy feeling inside. Those aren't emotions that happen very often in stories about the restless souls of murderers of all things, so it was satisfying to have it here.
The Canterville Ghost was one of those delightful pieces of speculative fiction that defies categorization. If you like stories that leap between genres and sometimes swirl them all up together, this classic short story might be right up your alley.