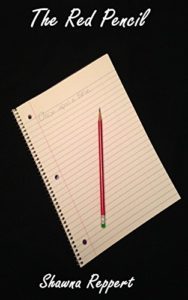 Title: The Red Pencil
Author: Shawna Reppert
Publisher: Self-Published
Publication Date: September 26, 2015
Genres: Fantasy, Contemporary
Length: About 19 pages
Source: I received a free copy from the author
Rating: 4 Stars
Blurb:
A young girl learns to be careful what she wishes for. . .and as an adult decides that some things are worth the cost. Contemporary fantasy by an award-winning author.
Although this story is inspired in part by the author's childhood in Pennsylvania and her Pennsylvania Dutch heritage, it is contemporary fantasy/magical realism, not memoir. The magic in the book is entirely the author's invention, although inspired by archetypes from several cultures. It is in no way meant to represent the Pennsylvania Dutch hex tradition.
Review:
Content Warning: Two brief descriptions of animal abuse and one brief description of a dead pet cat.
Everyone needs the right tools for their education.
Childhood isn't always a fun experience. It was interesting to see how Mari coped with her jealousy over a classmate who seemed to live a charmed life. Those sorts of emotions can be intense, especially when the ordinary scuffles of recess spill over into other parts of life. Getting to know the main character was even more rewarding than it had already been once she shared how she handled her feelings and how the red pencil helped her learn an important life lesson at such a tender age.
I would have loved to see more world building in this short story, especially when it came to Mari's relationship with the Huckster. He was such a mysterious figure that I would have loved to know how they first met and how he knew she was the right person to give the red pencil to. There was space to expand this world here, and I would have gone with a full five-star rating if the author had done that.
With that being said, I thought Ms. Reppert did a fabulous job of explaining the allure and danger of the red pencil. Some of the most memorable scenes for me were the ones that explored Mari's relationship with what she originally thought was a perfectly ordinary gift from an acquaintance. I'll leave it up to other readers to discover what was actually going on there, but this is the sort of magical touch to a plot that leaves me wanting more.
The Red Pencil was a thoughtful back-to-school read.